From the Associated Press:
Advanced Stats Find Way Onto Baseball Cards

The advanced-stats movement is making headway in another area: baseball cards.

Topps added WAR (wins above replacement) to its cards last year in a sign that the oft-debated metric is becoming more accepted by the mainstream.

As a company that's been making baseball cards since 1951, we always want to be in line with the evolution of the game," Clay Luraschi of Topps said in an email.

Luraschi said the first time Topps ventured beyond a more traditional stat line was in 2004, when it introduced OPS to the back of cards.

Numbers like batting average, RBIs and ERA aren't about to disappear, but the baseball world is increasingly welcoming additional stats. The scoreboard at Tropicana Field, home of the Tampa Bay Rays, now routinely displays statistics like on-base percentage, slugging percentage and WHIP. The key, of course, is to present different forms of information — while acknowledging that not all fans are familiar with some of the newer ways of measuring a player's performance.

"We want to be in a position as a company to chronicle all sides of the game, including stats," Luraschi said. "In addition, we want to help usher in new concepts and expose fans as well."
Sorry, but this is Bryce Harper's 2013 card; I don't see war, though I do see OPS.
UPDATE: My editing "rabbi," Mark Aubrey, wrote to say that the AP story was in error: Topps includes WAR in this year's set. And not for nothing, but is it me or are the 2013 and 2014 backs a bit too similar? Unless the backs are all different in color design and this is just a coincidence.
It's kind of interesting to note the evolution of the card backs. Ignore the primitive photographic quality that frequently bordered on the ridiculous in the air-brush, pre-photoshop era.
There are two choices for card backs: vertical and horizontal. The former offered less space for statistics. I wonder how they decided in those early days on which to include.
And example of an early card shows just two lines of states: the previous season and lifetime numbers. Less math work involved, although it meant filling the space with more text. From the 1952 set:
Note the (now relatively meaningless) defensive stats.
Later on, card backs included each year of as players career, which meant for some tight fitting when it came to guys like Willie Mays:
Here's a representative horizontal layout. From the 1970 set:
A vertical back design, from the 1968 set. for stats.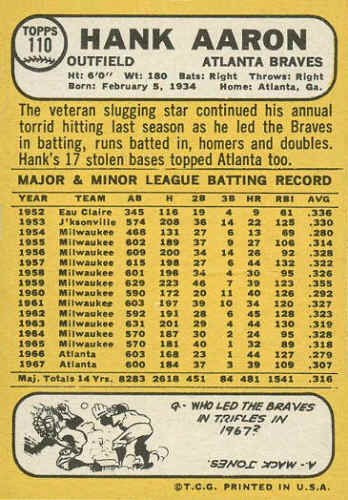 The problem I have nowadays is that there are just too many set variations. Maybe that WAR stat appeared on one of Topps' other products.
But If I can't afford it, I don't know they expect kids to keep collecting, thereby furthering the problems of building and keeping a young fan base.