My New Jersey landsman and veteran sportswriter Filip Bondy has crafted a fun volume on one of the most famous games in the history of the national pastime. Whenever there's a baseball show featuring a compilation of clips, there's a good chance you'll find the July 24, 1983 contest between the New York Yankees and the visiting Kansas City Royals — aka, "the Pine Tar Game" — in the mix. I'm waiting for the full-fledged documentary that will include a super close-up of George Brett's eyes as his pupils dilate from normal to those of a crazy person in slow motion.
In the meantime, I enjoyed The Pine Tar Game: The Kansas City Royals, the New York Yankees, and Baseball's Most Absurd and Entertaining Controversy, Bondy's deep-background and behind-the-scenes investigation. He covers not just the game, but the cultural differences between New York and Kansas City as well as the semi-symbiotic relationship between the Yankees and old the pre-Oakland Athletics who come across as little more than a AAA-plus farm team, providing a number of talented players who went on to Bronx glory.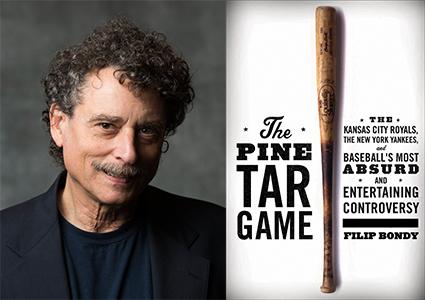 Bondy will be at the Yogi Berra Museum on the campus of Montclair State University on Sunday, Aug. 9, at 1 p.m. To RSVP or pre-order a copy of his book, call 973-655-2378.
My review of The Pine Tar Game appears on Bookreporter.com.
Podcast: Play in new window | Download
Subscribe: Apple Podcasts | Android | RSS