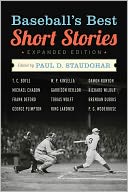 There are numerous staples of baseball fiction: Kinsella and Lardner immediately come to kind, with contributions from writers that might surprise, such as Garrison Keillor and George Plimpton, both known for their work in other genres. Then there are the newcomers, putting more contemporary spins on a game that's been around fore more than 150 years.
Paul Staudohar first published a collection of Baseball's Best Short Stories in 1995. He recently followed up with a new edition
this year and I had the opportunity to chat with him about the project and just how an emeritus professor of business at Cal State East Bay gets to do a series of sports fiction books anyway.
Podcast: Play in new window | Download