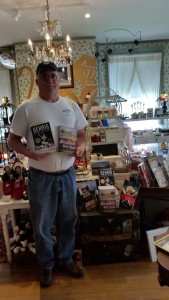 Funny how discoveries are made.
My wife and I were having lunch at the Red Lion Inn in Stockbridge, Massachusetts, last fall and dropped by the gift shop on the way out. Now usually, I hover around the door, tapping my foot impatiently and watching my watch. But right at the front of the shop was a display of a couple of baseball books, of all things (normally these places are stocked with refrigerator magnets, jars of jams and jellies, postcards, et al, so this was a welcome surprise.
The books in question — Baseball in the Bay State and Gehrig: Game By Game — were written by Kevin Larkin, a retired police officer now working security at a hospital. Gehrig, in particular, was impressive, weighing in at more than 500 pages.
A day or so later we were in the Yellow House Bookstore in Great Barrington and I asked the proprietor about used baseball books and she mentioned Larkin, obviously a local celebrity.
I managed to find him online (Facebook does have its uses) and the ensuing correspondences resulted in this Bookshelf Conversation.
Podcast: Play in new window | Download
Subscribe: Apple Podcasts | Android | RSS