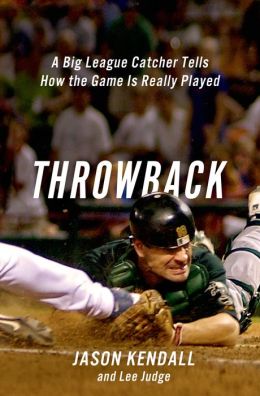 This is a typical Jason Kendall photo. It is a picture of intensity and passion.
There are a few books out there, ostensibly written by pro athletes describing how to play the game. Joe DiMaggio published one (Baseball for Everyone
), so did Bob Feller (Pitching to Win
). But those were just white bread, without nuance, probably written for kids just learning, not adults looking for tips on how to enjoy baseball even more.
Kendall, a veteran of 15 Major League seasons, had the perfect vantage point since he spent almost all the time looking out on the field from behind the plate. His 2,025 games at that position ranks fifth on the all-time list, even though he played at least four fewer seasons then the men ahead of him, a testament to his endurance and desire to play.
With the help of Lee Judge, a political cartoonist and baseball blogger for the Kansas City Star, Kendall recently published, Throwback: A Big-League Catcher Tells How the Game Is Really Played. I spoke with him recently about the project, his career, and growing up in a baseball environment.
Podcast: Play in new window | Download
Subscribe: Apple Podcasts | Android | RSS