I usually speak to my guests after they've completed their project, so this is a bit of a departure. It's good to shake things up once in awhile.
By the time you read this, Brad Balukjian, PhD, will be on a cross-country trek in preparation for his new book about a single pack of baseball cards.
Balukjian's idea has him combing the country to speak with the players who appeared in a random pack of 1986 Topps cards. These are the ones he got: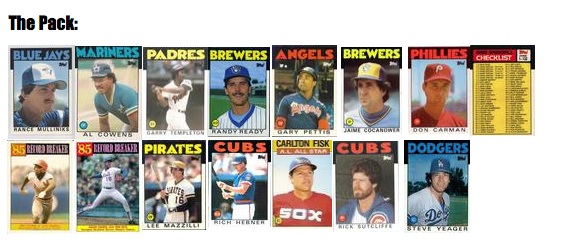 In case you can't read the cards, they are, in order, left to right, Rance Mulliniks, Al Cowens, Garry Templeton, Randy Ready, Gary Pettis, Jaime Cocanower, Don Carman, Vince Coleman, Doc Gooden, Lee Mazzilli, Rich Hebner, Carlton Fisk, Rick Sutcliffe, and Steve Yeager. The final card was a checklist.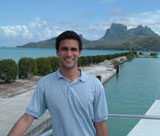 So it's Balukjian's plan to interview each of the players, find out what they've been doing since they retired, etc. His travels will take him from his native California to Texas, Missouri, Massachusetts, New York, Illinois, Arizona, Connecticut, and Florida, some 10,000 miles by his estimates. (Cowens passed away in 2002 at the age of 50, so Balukjian will visit with his family.)
The author will be blogging about his adventures at Waxpackbook.com. We recently spoke about his project for a Bookshelf Conversation.
Show notes: Here's the article about "Breaking Down the Science of the Stolen Base" in Smithsonian Magazine to which Balukjian referred.
Podcast: Play in new window | Download
Subscribe: Apple Podcasts | Android | RSS