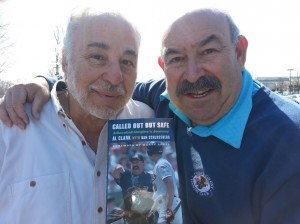 Feast or famine: we haven't had a book written by a real umpire in how many years? Bruce Weber's As They See 'Em doesn't count because he was an embedded journalist working on a project. This year we have two: Doug Harvey's They Called Me God, and Al Clark's Called Out but Safe.
Clark, an American League ump from 1976-2001, was a colorful character. Like, many who take the time to talk about their profession, he was proud of his craft and worked hard to hone his skills. He was always grateful for his opportunities and never took anything for granted. And, yes, he made a couple of big mistakes along the way. He was fired in 2001 for improperly using plane tickets in violation of the umpire union's contract and in 2004 he was sentenced to four months in jail after participating in a memorabilia scheme which resulted in a federal mail fraud conviction.
But Clark never shied away from his responsibility or blamed his situations on others. He tells a frank story in his memoir, written with the able assistance of Dan Schlossberg (at left in photo). Among the topics of conversation: the relationships between umpires and players; the evolution of technology and how it affects umpiring; and Clark's Jewish roots.
Among the many appearances Clark will be making is his Sunday, May 18 ,event with Schlossberg at the Yogi Berra Museum.
Podcast: Play in new window | Download
Subscribe: Apple Podcasts | Android | RSS