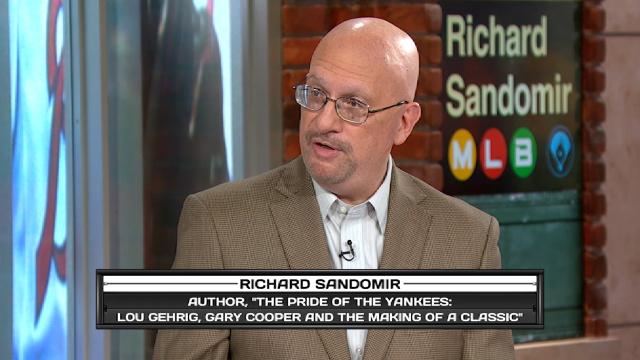 Two of my favorite pastimes are baseball and movies. So when a book comes along about a baseball movie, you know I'm all over that. So there was with great joy when I learned awhile back that Richard Sandomir, the former sports media columnist for The New York Times (now on the "dead beat" for the paper) was working on the backstory of The Pride of the Yankees, one of the most beloved baseball flicks of all time. And I was not disappointed.
POTY has been the subject of many rumors over the years, especially over how the film was shot. Some have mentioned that because Cooper was a right-hander and couldn't convincingly portray the baseball skills of the left-handed hitting Lou Gehrig, they had the actor running the bases counter-clockwise in a uniform with the teams name printed in reverse, and other wild theories.
No spoiler alerts here, but just a few items that really stuck out for me from Sandomir's work:
The role Eleanor Gehrig played in influencing what was eventually brought to the big screen
The almost "anti-baseball philosophy" held by the film's producer
The small amount of actual baseball action we see, especially in close-ups of Cooper
That Cooper's "Luckiest Man" speech has become the de facto version since there was no recording or transcript made from the actual comments made by the real Gehrig.
With that, I give you the Bookshelf Conversation with Richard Sandomir.
(A word of apology: Recently purchased a new laptop with an update operating system which means more advanced programs than I had been working with. So there's a learning curve involved that will take a little time and until then, the quality of the audio might be a tad off. Thank you for your patience and understanding.)
Podcast: Play in new window | Download
Subscribe: Apple Podcasts | Android | RSS