It's time again for that annual tradition: a comparison of the baseball preview issues published by Sports Illustrated, that old war horse, and ESPN The Magazine, that (relatively) new upstart.
One has to bear in mind that ESPN is a biweekly. As such, the material they print of necessity has to be more featurey and less timely, given that anything can happen over the extra week. Having said that, this SI edition is a "double issue,"effectively counting for two weeks. I don't know if that's a union thing…maybe making the writers and production staff work so hard limits the amount of issues they're allowed to put out. In any case…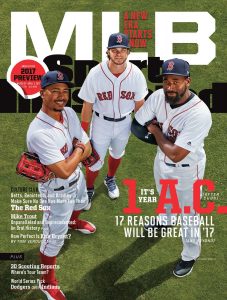 The Sports Illustrated cover features Mookie Betts, Andrew Benintendi, Jr., and Jackie Bradley Jr. of the Boston Red Sox. What, have people gotten tired of the Cubs already, or are we back to regional covers. And if that's the case, where are the Mets and Yankees?
Now that the Cubs have finally hushed the longest-running complain in the game, what does baseball do for an encore? What is the next big thing? Ben Reiter writes about "17 reasons baseball will stay great in 2017 (and beyond)." Tom Verducci, SI's senior baseball writer (and author of The Cubs Way: The Zen of Building the Best Team in Baseball and Breaking the Curse
), profiles Kris Bryant (okay, there's the Cubs' piece) while Jon Tayler offers "ETA: Right Now," a short series on up-and-coming players. Verducci also contributes "Macro Managing: The State-of-the-Art Skipper," about a day in the spring training life of the LA Dodgers' Dave Roberts.
Then there are the usual "Scouting Reports," indicating the projected starting lineups and pitching staffs for each team, along with not only each team's final record, but how many games back they'll end up in each division. I don't recall seeing that before but it shouldn't be surprising, given the sophisticated state of statistics these days. Each team is critiqued by a rival scout in an "Enemy Lines" and there's also a "Modest Proposal" and "Bottom Line" for each club.
One new and interesting feature of these reports: instead of the usual line of home runs, innings, pitched, etc., there are only a few stats but SI considers each player in terms of his value as a Team MVP, a defensive star, an injury risk, a bargain, and whether he's rising or declining.
—————————————
Corey Seager, the LA Dodgers' star of the future (beware the ides of Gregg Jefferies), graces the cover of ESPN the Magazine. Instead of Bryant, they have a big story about the Paul Bunyanesque Kyle Schwarber, with more standard articles on the Cleveland Indians' reliever Andrew Miller and the Chicago White Sox Cuban import Yoan Moncada. My favorite item here is "Legends in the Making," in which contemporary stars like Francisco Lindor, Noah Syndergaard, and Carlos Martinez are compared with old school players like Derek Jeter, Pedro Martinez, and Bob Gibson, respectively, just to name a few.
As far as individual team profiles, there's really nothing comparable to SI, just a paragraph for each based on ESPN's usual power rankings sprinkled throughout the other stories.
Finally, and again given the statistical analysis, we have a wide disagreement when it comes to each publication picking their World Series participants: SI puts the Dodgers over the Indians, while ESPN has the Cubs repeating, this time against the Red Sox.  Go figure.
Save