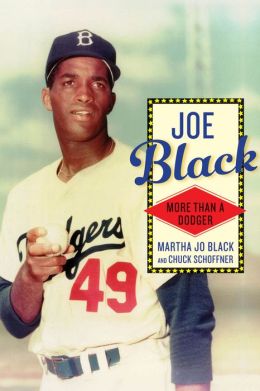 by Martha Jo Black and Chuck Schoffner. Academy Chicago, 2015.
Rather than the blustery "best" or "greatest" that book titles seem to relish, this new biography of what basically amounted to a one-year wonder, is most appropriate.
Joe Black, who burst on the scene in 1952 by winning 15 games and saving 15 more to help them win the pennant. In the Fall Classic against the archival New York Yankees, Black became the first African-American pitcher to win a World Series game. He won the Rookie of the Year award for his efforts.
Unfortunately, it was downhill from there. He pitched just five more years, leaving the Dodgers in a deal to the Cincinnati Reds before winding down with the Washington Senators.
The college-educated Black was "more than a Dodger," as he went on to teaching in his native New Jersey and later becoming a major executive with the Greyhound Bus Company. Along the way, he instilled in other African Americans a sense of dignity, self-reliance, and pride.
The joint effort by Black's daughter, Martha Jo — who was born long after he had left baseball — and Schoffner is fairly standard and adopts and back-and-forth style which seems unnecessary as chapters alternate between his playing days and his life before and after the Majors. It is the latter part that is far more interesting; the years on the diamond, apart from the 1952 season, is a tale heard too often when it comes to players from that era, laboring without the benefits of modern medical technologies and team leadership that believed they knew far more than they actually did. Black's managers — Chuck Dressen and Walt Alston — pushed and suggested changes in their pitcher's delivery way beyond their understanding of bio-mechanics. As a result, Black played hurt, as did many of his contemporaries, afraid to be forward about about their injuries for fear of losing their spots.
But you're an ex-athlete much longer than you're an athlete, and life must go on. Black made the most of his opportunities and was an inspiration to others, although he was not without some detractors who thought him to acquiescent and not militant enough.
One factor I found distracting was the way this book has been marketed. Martha Jo's name comes first and in a bigger font size, giving the impression that she was the major writing force. In fact, it's easy to find her "contributions," which are italicized paragraphs scattered sparingly throughout the narrative. This is not to say that her thoughts are not heartfelt and welcome, but they constitute a scant part of the biography.