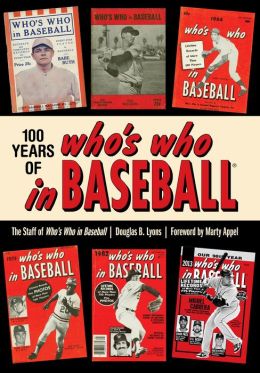 By Douglas B. Lyons. The Lyons Press. 216 Pages. $24.95
To be fair, how do you write a book about a book that's essentially about tables of numbers?
That's the challenge Lyons picks up in 100 Years of Who's Who in Baseball
. 
While it's fun to look at each of the covers, dating back to 1912 (there was a four-year hiatus between the first and second issue), there's little else remarkable about the book, unfortunately. In fact, the most informative information about the history of the magazine comes from Marty Appel's foreword. He aptly describes the happiness of seeing the publication each year:
The first sign of spring training being just around the corner was often a sighing of a handy little publication on the corner newsstand called Who's Who in Baseball. Digest size, it would catch one's eyes with its distinctive red cover, and the sight of it would bring joy and hope that the new season was almost here.
Lyons — whose previous baseball work includes collaborating with his brother Jeffrey on Out of Left Field: Over 1,134 Newly Discovered Amazing Baseball Records, Connections, Coincidences, and More!
and serving as co-writer on memoirs by Jim Leyritz and Red Sox broadcaster Joe Castiglione — offers brief bios on each of the cover boys, almost all of whom were All-Stars, award winners, or future Hall of Famers (with the exception of a "generic catcher" in 1929). There's also a brief  "In and Around Baseball in…" the appropriate year. Sometimes this combined information this doesn't even take up half a page, especially when a player appears more than once. While there were rare instances in which two players shared the cover early on in the lifeline of WWIB, it wasn't until the mid 1960s that it became commonplace, with as many as five on the front.
It might have been interesting to see an example or two of the entries. Appel mentions the case of Rudy Seanez, a journeyman pitcher whose minor and major league careers take up a whopping 45 lines. And that doesn't even count the post season, all the data about transactions and stints on the disabled list.
The upshot: You enjoy this one for the nostalgia factor.
Bonus! Here's a brief piece about WWIB as an example of "Great Magazine Cover Design."