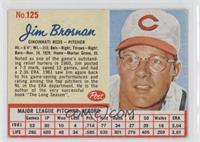 As discussed last week, Jim Brosnan's contribution to the world of sports memoir has gone under-noticed. Only a couple of obituaries have appeared — The New York Times, Los Angeles Times, and Washington Post among them. Nothing of consequence from ESPN, or even MLB.com.
I reached out to a couple of literary gentlemen for their assessment of Brosnan's legacy.
John Thorn, the official historian of Major League baseball, wrote, "This comes as sad news. Brosnan was a really good pitcher, a fact obscured by his being a terrific writer."
Thorn wrote about the baseball autobiography genre in a sidebar to his Wall Street Journal review of (the reissued and ghosted) Pitching in a Pinch, by Christy Mathewson. "Brosnan's was the first such book written without the secret aid of a pro except for [Cap] Anson's autobio," Thorn wrote in his e-mail.
This is the sidebar that accompanied Thorn's 2013 WSJ review:
The first book-length memoir by a baseball player was King Kelly's Play Ball: Stories of the Diamond Field (1888). Kelly was a great player, a formidable raconteur and a heavy drinker who died at age 36 in 1894. Kelly once upset his Chicago White Stockings manager, the abstemious Cap Anson, so much that the club sold him to Boston for the then unprecedented sum of $10,000. His outsize persona is well captured by his ghostwriter, Jack Drohan of the Boston Globe.

Anson ultimately ran afoul of Chicago White Stocking management himself and, embittered, actually wrote his own autobiography, A Ball Player's Career: Being the Personal Experiences and Reminiscensces of Adrian C. Anson (1900). Its style is a bit stilted and the perspective raw, but for the devotee of the ancient game, this is great stuff. Another deadball-era classic is Johnny Evers's Touching Second: The Science of Baseball (1910), ghosted by Hugh Fullerton. It is the same sort of episodic book as Pitching in a Pinch, loaded with little-known tales of the diamond.

For many ensuing decades, the shelves were swamped by insipid ghosted bios, until 1960, when pitcher Jim Brosnan wrote his own book, The Long Season, followed two years later by Pennant Race. Both are frank, direct, highly readable, and still in print (emphasis added). In 1969, John Underwood aided Ted Williams for the wonderful My Turn at Bat. Jim Bouton's controversial (at the time) Ball Four (1970) remains the king of all baseball memoirs, with updated editions bringing us up, most recently, to Ball Four: The Final Pitch (2001). Players who have become first-rate memoirists more recently include R.A. Dickey, Dirk Hayhurst, Dave Baldwin, and that fella I've forgotten.
Baldwin, who published Snake Jazz
in 2008, was one of the player-cum-authors I contacted. (Hayhurst and Bouton, to this point, have not responded.)
Although few people realize it, Jim Brosnan was one of the great pioneers of baseball. At the time he published The Long Season in 1960 baseball players were considered by the public to be uneducated oafs. A player coming out of college was wise to hide his education as best he could because professional baseball favored the players who had nothing "to fall back on" if they should fail at the game. It was thought the uneducated players were leaner and hungrier.

Then along came Jim Brosnan with a book he actually wrote without a ghost writer. A well-written book, at that. Baseball management was displeased. Brosnan's teammates distrusted him. Probably some sportswriters were a little threatened to find a player who could write as well as they. The book shocked the baseball world, but there it was — ready proof that a literate baseball player did exist.

Brosnan must have been one of the bravest men to ever play baseball. Thank goodness he was, because otherwise we might still have the old misconceptions and we might have few college-educated players today.
I don't know what the general lack of interest in Brosnan's passing says about our sense of perspective. Do people look at his work as quaint? Something grandpa would tell you as a kid upon his knee? (By the way, as of this writing, The Long Season
is ranked at 914 on Amazon and Pennant Race
is at 2,910.)
Nowadays we're more into the salacious. Bouton may have outraged older fans with the original release of Ball Four
in 1970, but even that seems antiseptic these days. Such are the TMZ times in which we live. Evidently, the trend is to pile on as much dirt as possible, and the more graphic the better.