(A Baseball Bookshelf encore with revisions.)
Small wonder in that they had a lot to do with Jackie Robinson.
Robinson's teammate, Don Newcombe, recalled a meeting between the two iconic figures for a piece in Time Magazine in 2007:
Do you know what Jackie's impact was? Well, let Martin Luther King tell you. In 1968, Martin had dinner in my house with my family. This was 28 days before he was assassinated. He said to me, "Don, I don't know what I would've done without you guys setting up the minds of people for change. You, Jackie, and Roy will never know how easy you made it for me to do my job." Can you imagine that? How easy we made it for Martin Luther King!
Robinson devoted an entire chapter to "The Influence of Martin Luther ing, Jr." in his 1972 autobiography, I Never Had It Made.
The photo below appeared in the June 8, 1957 edition of The Sporting News (Note: Hover your mouse over the photo for the captions. Sorry, but this is a new WordPress bug.)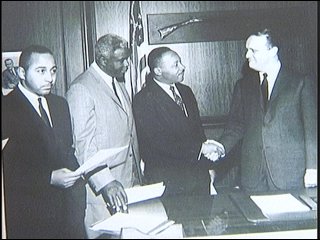 While this isn't exclusively about baseball, ESPN posted a tribute to King last year on the 50th anniversary of the March on Washington.
Pundit Keith Olbermnan commented on the link between his father and King.
The Baseball Sociologist blog on MLB.com similarly marked the occasion as well as this one posted for last year's MLK Day. This one comes from 45 Miles from Fenway, a blog for the Pawtucket Red Sox,  from 2012. There may be some duplication of links/material, but the sentiment is real and worth it.