Don't know if it's the recent attention paid to poor umpiring or the call for expanded use of video replays, but several books published over the past year or so take up the topic of rules interpretation.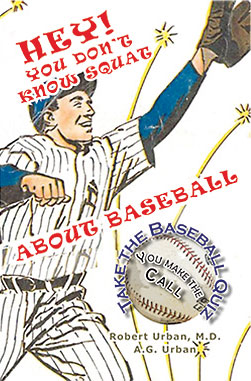 These books point out that the official rule book is kind of dry; the "fun" part comes in the interpretation. So the authors go about the challenge of trying to come up with the most bizarre plays imaginable to prove, according to one wit, that Hey! You Don't Squat About Baseball. In fact, as of this writing, the Kindle version of the book, written by Robert Urban and Amanda Urban, is available for free.
According to the "product description" on Amazon.com, the Urbans have produced "a baseball quiz book and much more. The book presents baseball situations or scenarios calling for a ruling based on the reader's understanding of Major League Baseball's rules. Each scenario comes with four choices. The reader chooses the correct answer in accordance with reader's understanding of the game. You make the call."
Another of this type is So You Think You Know Baseball?: A Fan's Guide to the Official Rules, by Peter Meltzer. Like the Urbans' book, he offers examples of relatively bizarre incidents on the playing field and asks the reader what the proper ruling should be.
Most recently, we have Jim Tosches' The Rules Abide: The Thinking Fan's Guide to Baseball Rules (With History, Humor and a Few Big Words). This one differs from the other two in that the examples are more anecdotal.  I sometimes got the feeling based on their titles, the other authors are trying to show off how smart they are (or how dumb you are).
One of the things I learned in from Tosches is the reason right field is the "sun field" in so many ballparks. They were originally designed to have the line from home plate to second base run in an east-to-northeast direction, which means the sun setting in the west may well affect play. Not always the case, of course. I remember the sun was particularly hazardous to first basemen in Montreal's old Jarry Park. The game would have to be halted from time to time because the sun setting over the left field "wall," which wasn't high at all in the same stadium, would be right in their eyes, making throws from third or short a potential nightmare.
The off-season is the perfect time to sit down with any (or all) of these books so you're able to amaze your friends with all sort of arcane info in 2014 and beyond.