Switched over to a new podcasting plug-in. Not working exactly as I had hoped. The best I can do at the moment is link to it this way: hear the podcast here. Apologies for the extra click.
* * *
You can't find any listing of the best baseball (or sports) fiction without finding Eric Rolfe Greenberg's The Celebrant: A Novel
. The story of a pair of Jewish brothers in the early 1900s is one of assimilation and adoption of baseball as of way to becoming American.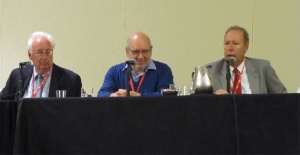 I had the opportunity to meet Greenberg at the recent SABR Conference in Philadelphia. He was a member of a panel discussion on "Imagining Baseball, with veteran sportswriter Steve Wulf (on Greenberg's right in the photo), and Dr. Mark Cooper (on Greenberg's left). The session was moderated by John Thorn, official historian for Major League Baseball. You can listen to that presentation here.
Greenberg was kind enough to spend a good chunk of time talking about the craft. (My apologies for identifying Dr. Mark Cooper as "Marty" in the introduction to the interview. Marty Cooper happens to be a friend of mine from Montreal.)