Yeh, I know, these don't actually count as dispatches from, since the conference ended Sunday. But I didn't have a laptop, the wifi wasn't free, and I didn't want to burn my data minutes (not to mention cramp my fingers) typing away on my iPhone.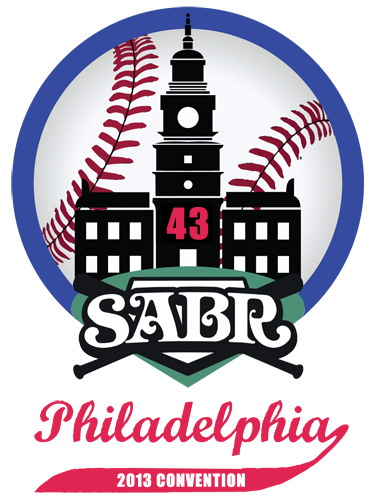 This was my fourth SABR meeting and each time I wonder why I go. It's nice to put faces to the names of people with whom I've been corresponding for years (according to the website, I've been a member since 1982; where does the time go?). I'm too much of an introvert, I guess. I have yet to find my niche; I'm neither a hard-core stats guy nor a historian so some of the papers presented had no real interest for me. Since the conference was held in Philadelphia, a hefty percentage had to do with some form of baseball in the City of Brotherly Love. After attending some of the programs, I have to wonder: if these made the cut, what were the ones that didn't like?
The highlights for me came in the general panels: "Imagining Baseball," moderated by MLB Official Historian John Thorn and featuring authors Steve Wulf and Eric Rolfe Greenberg, and memorabilia collector Dr. Mark Cooper; and "Baseball and the Media" moderated by Alan Schwarz with baseball journalists Jayson Stark, Paul Hagen (winner of the J.G. Taylor Spink Award), Leonte Landino, and Donald Hunt. The link leads to a story and a mere snippet from the program; I would love to have access to the full discussion. Fascinating stuff about the industry and how it has changed with the advent of social media, both from a practical and ethical standpoint.
I had the pleasure of speaking with Greenberg at length about his 1983 novel The Celebrant, which is considered among the best baseball fiction of all time. I'll be posting that conversation as a podcast soon.
There was also a session about Hank Greenberg with John Rosengren, author of the latest bio on the Jewish superstar, and filmmaker Aviva Kempner, whose documentary, The Life and Times of Hank Greenberg, was recently re-released with an additional disc of interviews and segments that didn't make it into the original. But I had seen them before so there wasn't much new for me. A thought did occur to me during the discussion: I wonder if Greenberg ever saw Gentlmen's Agreement, one of the first films to deal with anti-Semitism?
One of the real disappointments of the conference was learning the Bibliography Committee had been disbanded. Kind of ironic, when you think that the organization is based on research, most of which comes from books and other materials.
Also a bit disappointing was the turnout for my book-signing on Saturday afternoon. According to my main editor, they did sell a lot of copies over the course of the conference, but apparently only a handful returned to have it signed. Oh, well.