The man responsible — for better or worse — for the astronomical salaries baseball players receive these days, died this morning at the age of 95. He had been battling cancer for more than a year.
Miller was one of the most powerful men in sports during his tenure as head of the players union. There will no doubt be numerous articles and testimonials about him in the days and weeks to come and I'll be passing them along as they do.
Dahlia Lithwick profiled Miller in the recent collaboration Jewish Jocks: An Unorthodox Hall of Fame. Here's what she had to say in a previous KK:
Actually Miller was assigned to me and despite a lifelong love of baseball (Montreal Expos!) and a background in the law I didn't know much about Miller at all. I actually did a bunch of research including reading up on Curt Flood and reading the court opinions.

I think for me the big surprise was the contrast between this kind of dandy-looking, self-confident Miller and the fear he instilled, the way he was characterized as a thug and a bully. I thought that was fascinating and spoke to something interesting about powerful Jews.I also can't believe the passion the fight over his place in the baseball Hall of Fame engenders — that fight is en fuego.

I loved writing this because it made me think a lot about the role of law and lawyers in convincing those who are being exploited that they are — in fact — being exploited.
It's a shame he was never elected to the real Baseball Hall of Fame.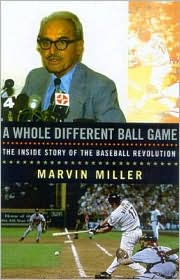 Miller published his autobiography, A Whole Different Ball Game: The Sport and Business of Baseball
, in 1991.