A couple of recent titles serve as a reminder that no matter where you go, there you are.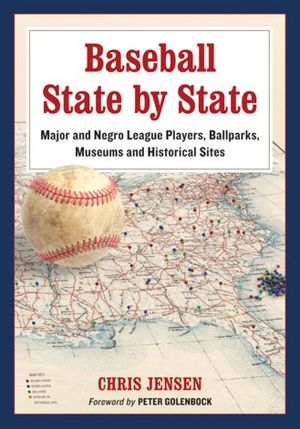 Chris Jensen's contribution to the national pastime and Americana is Baseball State by State: Major and Negro League Players, Ballparks, Museums and Historical Sites
, published by McFarland. He travels the highways and byways from coast to coast, explaining the contributions of each entity, ranging from Hall of Fame native sons to interesting museums and other attractions.
Geography and climate dictate that some states will have more of an impact on baseball than others. Kind of like the electoral college. As an example, California — currently the home of five Major League several minor league team, not to mention the scores of ballplayers born within its borders — gets the most ink with 17 pages. Oregon, on the other hand,
Each state entry includes several lists, including the Major Leaguers born therein; colorful nicknames for those players; historic baseball places, including Major, minor, and Negro league ballparks and museums; "notable achievements"; and all-time statistical leaders. All this is followed by narrative about baseball in each state to a larger or lesser degree.
While Jensen is to be commended for the copious research he did for State by State, the book tends to be a bit dry and not as entertaining (if that was his intention) as, say, Josh Pahigian's 101 Baseball Places to See Before You Strike Out
or The Ultimate Baseball Road Trip, now in its second edition.
* * *
When I was a kid, I loved collecting Fleer stickers. Later, when I became more sophisticated, I branched out from the Majors to the minors, primarily because of their fascinating logos and names. While they are more fungible than their parent clubs, moving from location to location much more frequently, they nevertheless offer a lot to think about.
Tim Hagerty must agree with this philosophy. The radio broadcaster for the AAA Tuscan Padres published ; he published Root for the Home Team: Minor League Baseball's Most Off-the-Wall Team Names and the Stories Behind Them
Cider Mill Press), a slim paperback that's long on fun, if short on historical information.
Like Jensen, Hagerty travels state by state, finding these such gems. Some make sense, such as the Fresno Raisin Eaters or the Las Vegas 51s (their logo includes an alien head) or the Roswell, NM Rockets. Others, like the Zanesville Flood Sufferers or the Wichita Falls Spudders, require more of an explanation for those not native to the land.
The author also warns against confusing teams like the Tyler (TX) Wildcatters with teams like the Tulsa Drillers or the Beaumont Oil Gushers. he includes the specific league for each team along with their years of existence, a rationalization for the nickname, and a fun-fact or two.
Minor league ball has always been a more laid-back source of amusement. They don't seem to take themselves so seriously, which is why you can have websites like Logoserver, whose mission is "Preserving Logos, Preserving History,"  and blogs entries dedicated to topics like "25 Amazingly Bizarre Minor League Baseball Logos" or merchandisers like Ebbets Field Flannels, who put out a great catalog for their replica pricey jerseys, hats, and jackets. It's always a treat when it arrives in my mailbox. I just wish I had the scratch to buy some of their stuff.