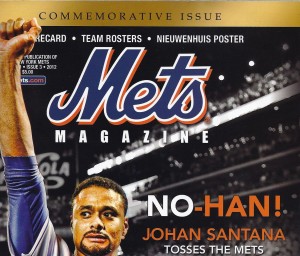 Actually, it should be "My night in the Excelsior section."
As per a previous entry, I experienced the Friday Mets-Yankees game at CitiField in a different way, trying to take it in fresh from reading Arnold Hano's classic title.
In the margins of my Mets program (still a bargain at $5, by the way), I made these notes:
* Soda is $5.50 but water is $6.50? No wonder people don't make better dietary choices.
* Uni-watch: The Mets' Ronny Cedeno and the Yankees Curtis Granderson and Alex Rodriguez were the only starters to wear high socks. So much for  tradition.
* When you're actually at the game, you wonder why it takes the players so long to meander out to their position for their pre-inning warmups. Then it hits you: commercials for the television/radio audience.
* When the breeze blows just right, you can smell the water at Flushing Bay.
* When did "booing" come to represent peoples' displeasure over a performance?
* With every at bat (or batter faced for the pitchers), the statistics are updated on the scoreboard. Reminded me of watching the stocks tickers glide by on the bottom of the TV screen.
* Jeter takes so much time getting into the batters box. I realize players have their rituals, but his is ridiculous and I'm surprised umpires let him get away with it. Of course, now he's a future Hall of Famer, so no one is going to challenge him on it, but it's like watching him do the "Hokey Pokey." He puts is right foot in, he puts his left foot in, he holds up his right hand to signal the umpire he's still getting ready….
* Another "time" issues: why do some pitchers take…so…long to get the signal from the catcher? It's like being stuck behind someone at McDonalds. It's basically just hamburgers? What's the problem? Didn't you know what you wanted before you came in? Make a decision!
* No one makes two-handed catches anymore; seems dangerous, especially on towering infield pop-ups that seem to sway in the wind. Luis Castillo.
* With two Yankees on base and one out in the ninth, there's a meeting on the mound. What is the pitching coach talking about? Is he reminding everyone of the scouting reports they discussed prior to the game? Sometimes I really wonder about some of the players' ability to concentrate. This must also drive the umpires nuts, not to mention the fans who want the game to move along so they don't miss their bus home!
* This pull-out poster of Kirk Nieuwnhuis in the program is nice, but I would have preferred Ike Davis.