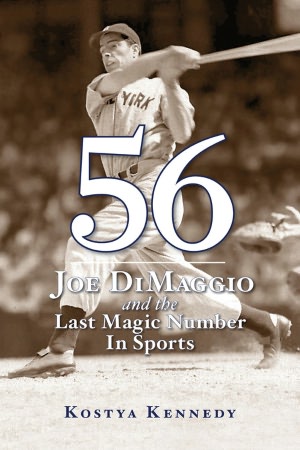 Kostya Kennedy, author of 56: Joe DiMaggio and the Last Magic Number in Sports, has been selected as winner of the   are pleased to announce that the winner of the 2012 CASEY Award, the annual prize of Spitball: The Literary Baseball Magazine.
According to a press release issued by Spitball editor Mike Shannon, 56 received two first place votes and one second 2nd place vote to run away with the juried competition.
Kennedy, a writer for Sports Illustrated, will be presented with his CASEY Award — a Kentucky blue and gold Louisville Slugger — at the 29th annual CASEY Awards Banquet on Sunday, March 18.  in Cincinnati. Kennedy's book and the other nine Finalists, along with 150+ other baseball books all published in 2011, will be on display at the Banquet.
For more information on the CASEY Awards, please visit the Spitball website or contact  Shannon at 513-442-0025.