I discovered Summer Anne Burton's site — Every Hall of Famer — through another new and equally engaging site, Bethany Heck's Eephus League of Baseball Minutiae. This was about the time I started compiling the lists of books about inducted members of the Hall, so it was kismet. As I've said before, I don't much much about art, but I know what I like, so I thought I'd ask Summer for some background about her project:
* * *
When did you acquire your love for baseball?
As a kid, baseball was the only sport I was even remotely interested in, although I wasn't nearly as obsessed with it as I am today. My mom's family is from Houston and I spent a lot of time there as a kid — I have very clear memories of the Astrodome closing, and it being a really sad thing. My maternal grandmother has been a loyal Astros fan my whole life, and I think that was the earliest example of a woman being a big sports fan. I played softball in elementary school, and I had a crush on Ivan Rodriguez when I was thirteen and he was a young Rangers player (I guess I didn't have much of a sense of team loyalty back then).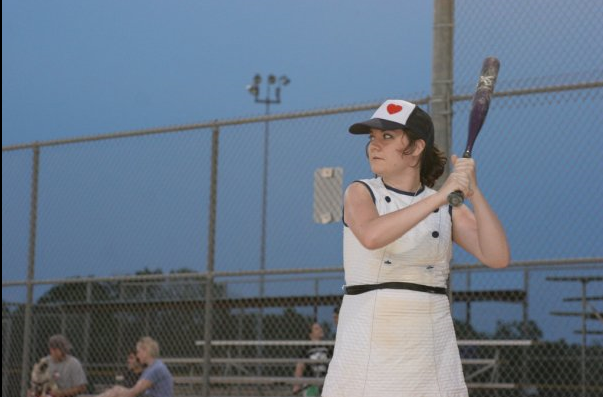 But the real passion started a few years ago when I started attending casual softball games between the bookstore I worked at and the record store across the street, which eventually evolved into Austin's "Alternative Softball League" — a co-ed slow pitch beer league comprised of ten local businesses playing in two divisions. We play the full nine innings and we ump and scorekeep our own games. Softball quickly become one of the best parts of my life, and led to more and more interest in the rules and subtleties of baseball. Conveniently, I met Brian at this same time, and he loves baseball more than anyone I have ever met. The first time I saw him, I teased him from the stands of a softball game for catching all the pitches he didn't like and tossing them back to the pitcher. Our third date was a minor-league baseball game, and the first trip we took together was to Rickey Henderson's induction at the Baseball Hall of Fame in Cooperstown. These days, he's trying to teach me how to throw properly.
A lot of fans aren't that interested in the history of the game to the extent you've gone to. What made you decide to create your drawings and put them on a website?
I guess I approach everything I do pretty voraciously. I was home-schooled after third grade and the personal freedom of my education often entailed pursuing my own passions with an obsessive level of research and energy. I don't really know how to become interested in something without become obsessed by it.
The first year that I really got into following Major League Baseball, I also read probably 20 baseball related books, joined a fantasy league, wrote a short story about Mario Mendoza, and watched Ken Burns' baseball documentaries with tears in my eyes most of the way.
I started an art project last year that involved creating small drawings within a certain set or theme and framing them as a square — I sold my first piece of art from that collection, and then my second and third and fourth. One of them was an illustration of my (highly subjective) nine favorite catchers:
And that one was my favorite. It made me want to draw more baseball players. The trip to the Hall of Fame museum had stuck pretty firmly in my heart and eventually I had the idea to start drawing hall of famers.
What kind of research do you do to create these Hall of Fame drawings?
I usually find a photo I like first — often combing the Library of Congress archives on flickr, and I get familiar with a player's face before anything else. I use Wikipedia for the basic info: the year they were inducted, what teams they played on, stuff like that. I use Baseball-Reference.com for more specific statistics, and I always read their Hall of Fame placard and what the Hall website says about them. There's obviously a lot more information to go on when I was working on, say, Gehrig, than there is when I'm working on Roger Bresnahan. But baseball fans are so damn detail oriented that it's been pretty easy to find some cool material on everyone in the Hall.
How long do they take?
About an hour from inception to completion.
Are you really going to do every Hall of Famer, including the umpires and executives? There more than 200.
Yes! That's the whole point. There are 295. Like I said, I approach things with a certain level of obsessiveness.
So how long do you think it will be until you're finished?
My initial idea was to finish in 2011, but I am already behind. We'll see if I can start doing two some days, in which case I might be able to catch up in time. We'll see!
And then? What will you do once the project is completed?
Well, I'd like to have a show here in Austin so that people can see the players "in person." After that, I have other projects in mind, some baseball-related and some not. I've been working on a baseball "zine"/comic for some time, mostly comprised of illustrations of my friends talking about their favorite players. I also really want to start working with my dad to develop prints of some of the breathtaking photographs he took at Astros games in the early 80s. And I've been paying attention to basketball lately…