Judging by the email I've received about The Bookshelf, I would guess that many of you are of an age before the Internet made instant gratification an inalienable right. If you wanted "the latest" information on the upcoming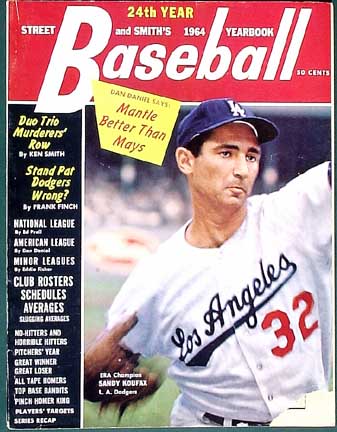 baseball season, you got it from from the annual magazines that came out in the early spring, supplemented by other regularly-published titles. Like the new issue of baseball cards (available only from Topps), it was something to look forward to. My mag of choice was Street and Smith: it had team rosters (with uniform numbers!), statistical milestones and targets, an appraisal of each team's minor league system, and a handful of feature stories. And compared with the books put out by The Sporting News, it was most affordable for a kid with a very small allowance.
Alas, those days are gone. A glance at the newsstand these days reveals a surprisingly substantial number of fantasy-based magazines (how many of these do we really need?) along with a few others. Oh, sure, S&S is still available (with covers depicting each team's high-profile players) as ar a handful of other titles, but they're relatively "useless" when it comes to up-to-date info, a fair amount of which is outdated by the time the players break spring training camp, thanks to last-minute deals and free agent signings. Funny, that didn't seem to matter in the pre-web days.