Haven't done one of these in awhile, but here we go…

This whole unpleasant business with Charlottesville has opened a can of worms when it comes to deciding which people who had previously been recognized by way of statues, parks, and roadways should have those honors stripped. Case in point: Tom Yawkey, former owner of the Boston Red Sox who has been characterized as a racist; the Sox were the last team in Major League Baseball to integrate. One of the streets bordering Fenway Park bears his name. What should be done about that? Journalist Howard Bryant, author of several books dealing with baseball and racial issues, had this to say.

Author J.J. McDaniel has released a new book, Papyrophilia, a self-published historical novel presented as a "tribute to baseball card collecting," according to this article on CrestviewBulletin.com.

The Pemberton Library (New Jersey) will present a program on "Baseball Parks And American Landscapes" on Saturday, Sept. 9, at 1 p.m.

Also on Saturday at the same time, "Baseball in the Berkshires: A County's Common Bond," the permanent exhibition of memorabilia at the mall, will offer an afternoon of presentations at its inaugural Baseball Day at the Berkshire Mall in Massachusetts.

Here's a profile on Jim Kaplan (no relation), author of Clearing the Bases: A Veteran Sportswriter on the National Pastime, from the Martha's Vineyard Vineyard Gazette.

Loathe to say I had never heard of High & Outside: A Baseball Noir. But now that I have, I'll have to see about finding a way to watch it. The movie features the late Geoffrey Lewis in his last appearance. Here's a story on it from the Chicago Tribune. I wouldn't be surprised if it's screening at the Hall of Fame's annual film festival. Judging from the trailer, the cinematography looks top notch.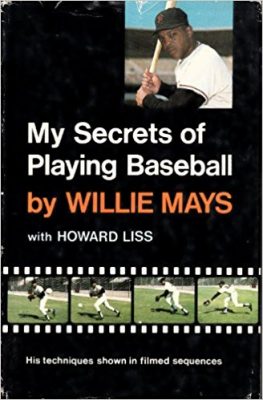 Finally, a man returned a book that was overdue by some 45 years. At least it was a baseball title: My Secrets of Playing Baseball, by Willie Mays with Howard Liss. Let's see, if the fine was just five cents a day…times 365 days…times 45 years…that comes to over $800! And that's without calculating for leap years. I probably would have just said I lost it and paid the $30 or so it would have cost to replace. But I'm a bad guy.