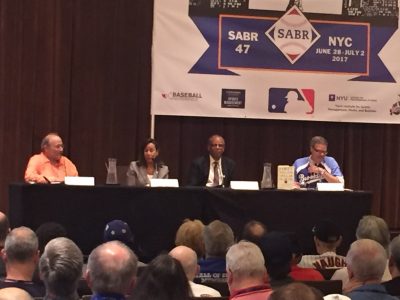 (Posted early Saturday, but the time references refer to Friday.)
The second full day began with "A Celebration of 70 Years: Jackie Robinson's Journey," with panelists Lee Lowenfish, author of Branch Rickey: The Ferocious Gentleman among other baseball titles; author and former NY Times columnist William C. Rhoden; and Della Britton Baeza, CEO of the Jackie Robinson Foundation. The session was moderated by Larry Lester, a long-time SABR member and perhaps the most preeminent scholar on the negro Leagues with too many credits to mention here. The previous afternoon, Lester received SABR's most prestigious honor, the Bob Davis Award. Well done, sir.
"A Celebration" consisted of the panelists discussing what Robinson meant to them, to baseball, and to society. The time allotted wasn't sufficient to cover to entirety of No. 42's legacy, but had to suffice, given the constraints of the schedule.
I flitted around for the rest of the morning, quite enjoying a program connecting jazz great Louis Armstrong with the national pastime. I know I'm not giving all the other presentations enough coverage, but this is an opinionated piece and naturally one can't attend everything, so I can only comment on the ones I did visit. That said, I must say that "Statcast and the Value of Defense" was way over my head because math. I wonder what the divide is among members of the organization as to which side they fall on: historical narrative or statistical analysis. Of course, there is a fair amount of overlap (see John Thorn and Peter Palmer's The Hidden Game of Baseball, which was re-released relatively recently (say that five times fast). Let me just say that while these presentations might not be my cups of tea, that doesn't detract from the time, energy, and passion that the presenters have for their topics so kudos all around.
Then it was time to gather in the lobby for the "SABR 47 Ballpark Session" at Citi Field. I must admit, as an "almost New Yorker," I get a kick out of seeing how out-of-towners react to things I take for granted. The New York City subway, for example, and or going to the Mets' home for the first time.
Several hundred conventioneers were treated to a private audience with members of the team's organization discussing their various jobs, including first base coach Tom Goodwin, who was actually pinch-hitting for manager Terry Collins; Josh Lewin, Wayne Randazzo, and Steve Gelbs, three members of the Mets' TV and radio broadcasting crews; GM Sandy Alderson, who made some illuminating (to me at least) comments about the care and feeding of the amateur draft; and a trio of gentlemen who work in the statistical analysis department (again, over my head). All this while members of the visiting Philadelphia Phillies warmed up below us, blisfully unaware of our presence. (In a moment of shameless elf-promotion, I gave my business card to Lewin whose book Getting in the Game: Inside Baseball's Winter Meetings, is included in my 501.)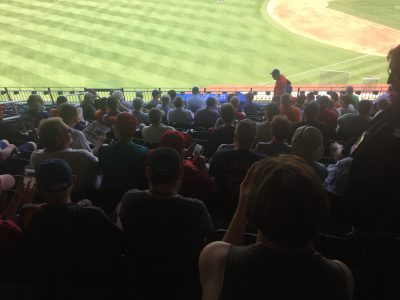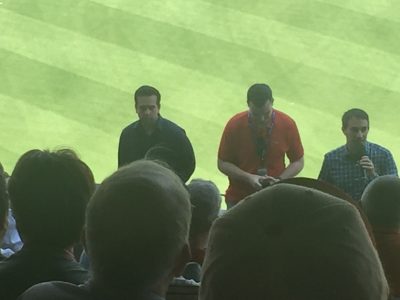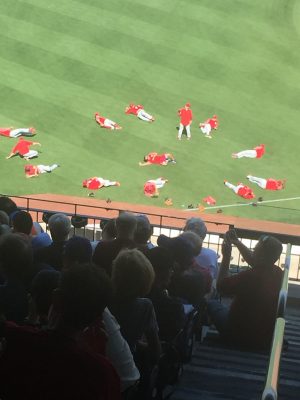 After two hours, we were ushered to our seats in center field, a section from which I heretofore never had the pleasure of enjoying a game. Quite an interesting perspective, although we couldn't see the scoreboard which was just behind us. What was behind us was a cornucopia of dining choices where you could find most of us for quite some time.
Jacob DeGrom took the hill for the Mets and struck out 12 in seven innings and the Mets won, 2-1.
Looking forward to tomorrow's finale which includes sessions on two legendary figures in the game, for very different reasons: Yogi Berra and Jim Bouton, whose seminal memoir Ball Four changed the face of sports literature.