Kudos to the planning committee; they saved the best (IMHO) for last.
(Note: this was written over the course of the day, so bear in mind the timeframe references.)
The final full day began with meeting some old friends: Curt Smith, author of several excellent books about the legendary broadcasters of the game (photo below left); and Jeff Katz, the mayor of Cooperstown and author of Split Season: 1981: Fernandomania, the Bronx Zoo, and the Strike that Saved Baseball; and Mark Armour, whose service and devotion to SABR makes him a legend in his own right.
The first panel featured a discussion about Yogi Berra and all quartet of speakers each had a very personal connection with him: Dave "No Relation" Kaplan as moderator with Harvey Araton and George Vecsey, both former New York Times sportswriters (Kaplan and Araton are neighbors of mine in Montclair), and Lindsay Berra, Yogi's oldest granddaughter and a correspondent with ESPN.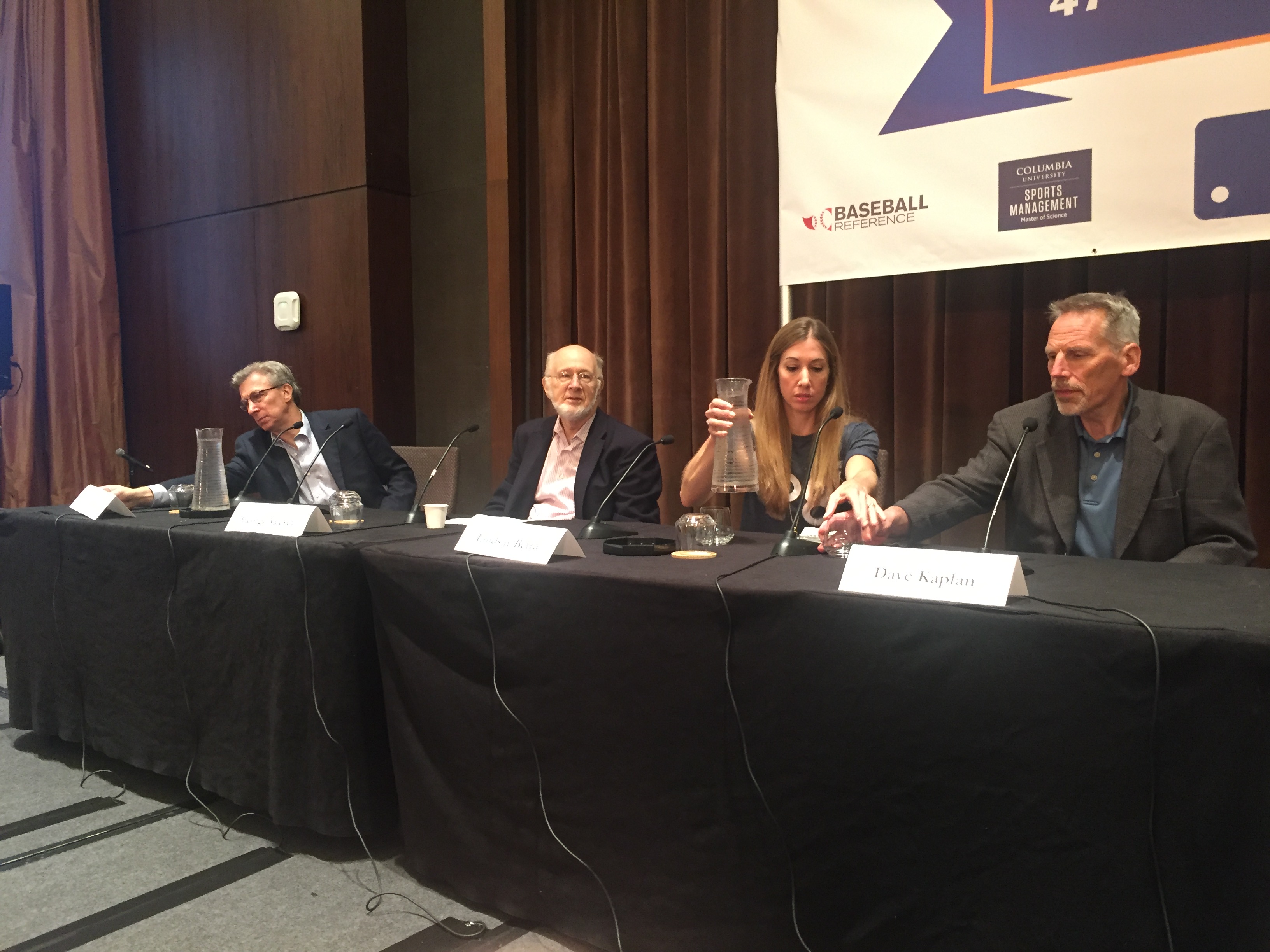 Kaplan is the former executive director of the Yogi Berra Museum on the campus of Montclair State University and had a long connection with the Hall of Famer, having co-authored several books with him. Araton wrote the best-seller Driving Mr. Yogi, about the sweet relationship between Berra and Ron Guidry. Vecsey was a member of the "Chipmunk" generation of writers who bucked tradition and asked the questions their predecessors wouldn't and had a very friendly relationship with Berra as well. And of course, Lindsay had her own perspective of grandpa, at one point sharing a story about being invited by a friend to go to a game at Yankee Stadium but fearful or Berra's reaction since he was on the outs with George Steinbrenner years after his ignominious firing.
As one might imagine, being a beloved personality — it's hard to imagine anyone have anything bad to say about Berra — the audience was charmed by all the stories and anecdotes the panel sharedThis session, despite its relatively early hour, was probably the best-attended to this point. It might be rivaled by  Bouton, scheduled for later in the day.
More shameless self-promotion: Had a chat with Rob Taylor, who edited 501 Baseball Books Fans Must Read before They Die about a revised edition. There have been a number of worthy books that have come out since it wear first released in 2013. Taylor asked for a brief proposal which includes those tittles, as well as what they would replace. After all, we want to keep the title. Already getting suggestions. One good thing is that since I didn't rank the books, there's no moving things around, say from #5 to #37, etc.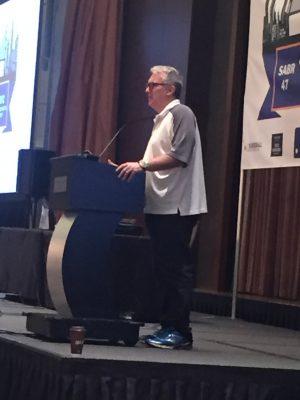 After chatting with Taylor, I went back to hear a very lively research committee meeting of the Baseball Card group, co-chaired by Armour, who has to be the busiest guy in SABR this day. I found the presentation by TV personality and uber-collector Keith Olbermann amazing; he certainly walks the walk. He probably could have made a good living out of that expertise.
The next session I attended — "All in Good Fun: The Emasculating Rituals of MLB Players" by Allison Levin — considered the hazing teams put on rookies when they force them to don women's clothing. Levin noted this is especially troubling in today's culture where the LGBT community is seeking broader acceptance and bullying is too prevalent a problem. She suggested there are are much friendlier alternatives if you want to put this forward as a bonding experience and opined that MLB is still not ready for an active player to come out.
After that was Paul Hensler's "Baseball in the Age of Aquarius: Milestone Transformation of 1968-69." Now these were the years when my own fandom really started to take form, so I found the concept particularly relevant. Among the topics: expansion and divisional play; new multi-purpose "Cookie cutter" ballparks which served no one well; a change in the Commissioner's office, moving from William Eckert to Bowie Kuhn who had to contend with a new generation of players who reflected the change in American society at the time, replete with anti-establishment feelings brought forth by race, war, politics, and cultural changes (while at the same time giving the sport's labor movement an ever-growing presence); and the increasing use of computers, as represented by the publication of The Baseball Encyclopedia, which The New York Times described as "big for a book, small for an amusement park." By the way, Hensler is the author of the forthcoming book, The New Boys of Summer: Baseball's Radical Transformation in the Late Sixties.
From there I attended an analysis of "Take Me Out to The Ball Game" as it reflected a new brand of female fan, by George Boziwick.  I did find this one a  bit out of place, given the duo of full-length books already published on the topic. But Boziwick probably put a bit more detail about the history of the song as regards the "women's movement." Didn't realize the two versions were done before and after women received the vote. and its deeper social significance, but fun nonetheless.Differences between songs in which the woman is more passive than here, where SHE's the real hard-rooting fan. "Equality" and "Empowerment." Baseball is a male-oriented pursuit in which she can participate if she'll just become educated in the sport.
Perhaps the high point of the Convention was "Jim Bouton: A Life in Baseball."  The session was supposed to announce that Bouton is suffering cerebral amyloid angiopathy, a form of dementia, but the Times beat them to the punch with this article slated to appear in Sunday's print edition.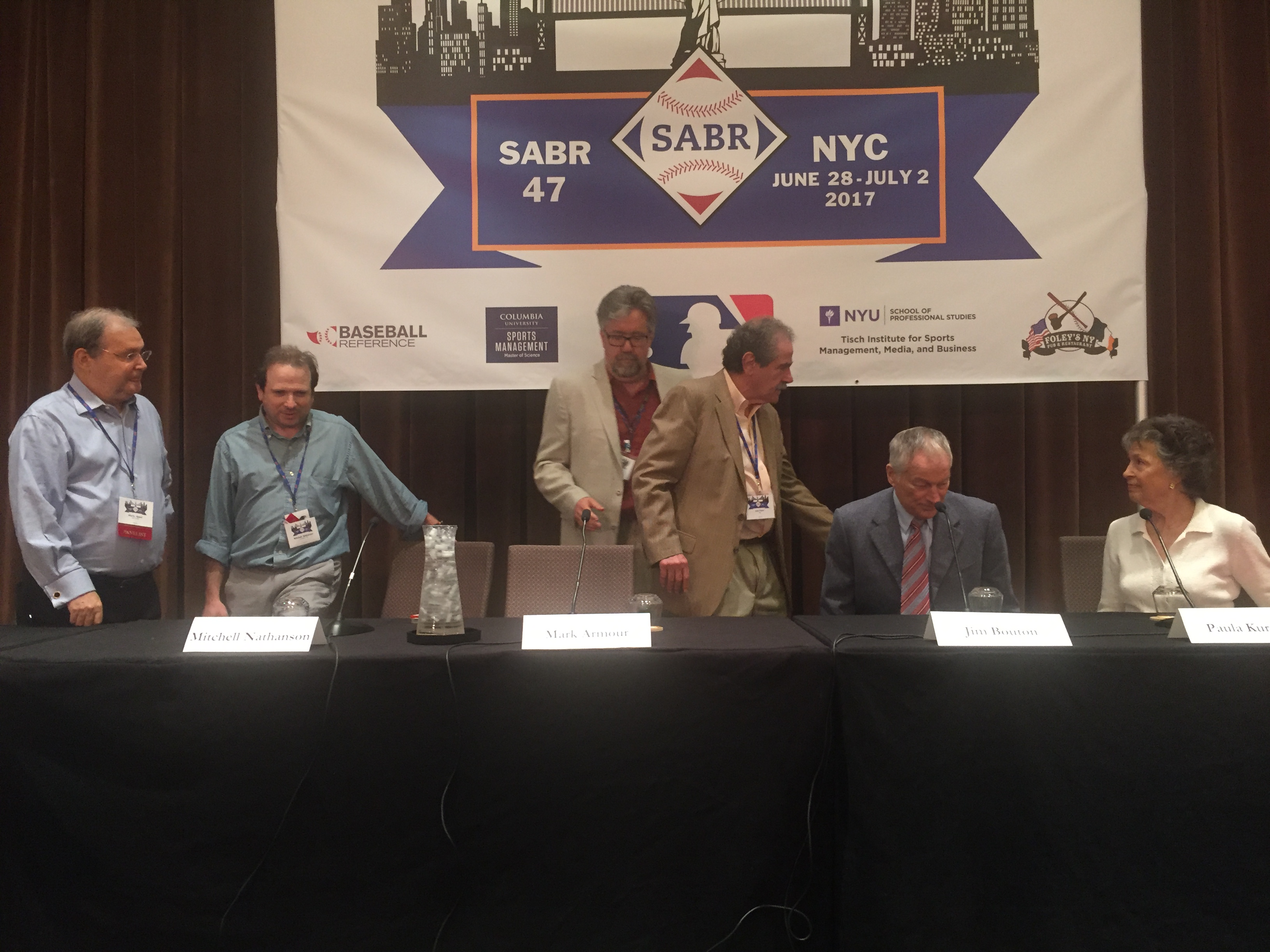 In the above photo, from left, Marty Appel, Mitchell Nathanson, Mark Armour, John Thorn, Jim Bouton, and Paula Kurman.
Bouton, now 78, looked remarkably well as he appeared on the stage with his wife, Paula Kurman, a retired psychologist and communications specialist who helped her husband as needed in finding his words and relating stories (for a time, following a strike five year ago, Bouton was unable to read, write, speak, or otherwise communicate.) The rest of the panel consisted of Marty Appel, who was the assistant public relations director when  Bouton was with the Yankees; Mark Armour, one more time; and author Mitchell Nathanson, who is working on a biography abut Bouton.
The session was moderated by John Thorn, official historian of Major League Baseball, who introduced the guest of honor as" the man who made this occasion necessary. "It is not surprising that Bouton should be so well received by this group. After all, he "wrote the book." Thorn Kerman discussed Bouton's Cerebreal Amamloid (CAA). Thus making it public for the first time, because "we consider this organization to be friends." She is there as a translator; very sad.
Thorn said Ball Four "forever changed baseball writing" while Nathanson contributed the best line: "You can talk about the history of baseball without talking about Mike Schmidt, but you can't tell [it] without Jim Bouton."
Appel concluded the program thus: "I have met hundreds of fans who said 'Ball Four made me fall in love with baseball.' What great tribute that is to this important book."
I recorded the session and will post it in a separate entry. Bouton has a special place in my heart because he was the first author I interviewed on the Bookshelf.
All due respect to the presenters, the rest of the afternoon was a bit anti-climactic, although I did enjoy Armour (again?) in his discussion of MLB's centennial celebration in 1969 and the process for choosing the best players of all time, living and/or dead and, for the finale, an interview under the auspices of the Baseball and the Media Committee with Alain Usereau, a Montreal-based, French-language broadcaster of ML games. As y0u may know, my maternal side hails from that city so there are a lot of fond thoughts there as well.
And so the Convention came to an end for me as I headed home for Jersey, happy to have made new and re-acquaintances.  Hope you all had a good time, too.