The first full day of the annual convention for the Society for American Baseball Research was about what I expected. A chance to catch up with old friends and meet others with whom I've only had a social media/email correspondence. Please forgive the somewhat sloppy but it's late and I'm tired
A few personal highlights: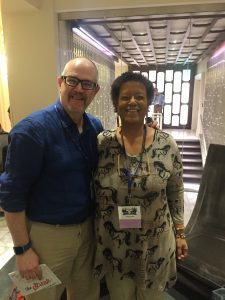 Claire Smith, the forthcoming Spink Award recipient from the Baseball Hall of Fame, was on a couple of panels, one in which she interviewed Jean Afterman, the assistant GM of the NY Yankees, and another with umpire Perry Barber on "Women in Baseball." I had the chance to speak with Ms. Smith one-on-one for a future "Bookshelf Conversation."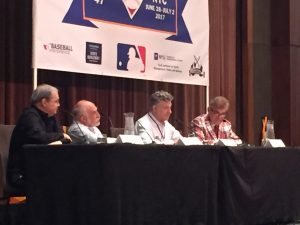 Marty Appel, Steve Jacobson, and Ira Berkow spoke on a panel about "Casey Stengel: A Man for All Seasons," moderated by Ed Randall, resplendent in his best Lindsey Nelson sport coat.
Enjoyed the chance to meet some talented people in the vendors' room including Sean Kane, who does paintings on baseball gloves, and Anika Orrock, whose work reminded me of cartoons one might see in the New Yorker. Kane shared a table with Jay Goldberg of the Bergino Baseball Clubhouse.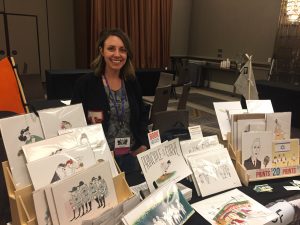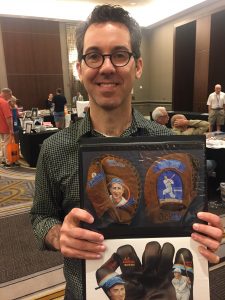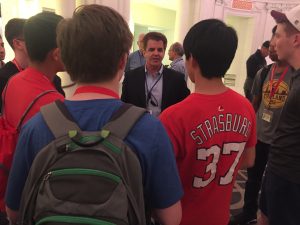 Also touched base (heh) with Brian Kenny, author of Ahead of the Curve and the subject of this Bookshelf Conversation, who moderated the panel on "MLB Now: The Changing State of Sabermetrics," with Mark DeRosa, Joel Sherman, Mike Petriello, and one other gentleman whose name escapes me. Have to admit that this one was a bit beyond my ken, being more narrative-minded. Prior to the session, I found Kenny surrounded by a group of young people and wondered, where did they come from all of a sudden?
Other folks drifted in an out, saying hello, including Gary Mitchem of McFarland, which probably has the largest presence in the vendors' room, as well as Rob Taylor of the University of Nebraska Press, who edited my first major publishing project, 501 Baseball Books Fans Must Read before They Die which I hope you'll see in a revised edition some day.
Save