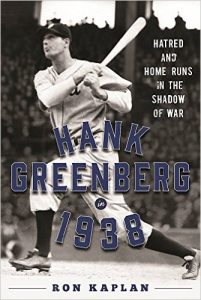 This year marks the 70th anniversary of Jackie Robinson's major league debut. Which means it's also the 70th anniversary of the game in which he collided at first base with Hank Greenberg, playing in his final season with the Pittsburgh Pirates an ignominious release by the Detroit Tigers with which he had a Hall of Fame career. Good timing when it comes to a little shameless self-promotion in that the incident comprises a full chapter in my forthcoming book, Hank Greenberg in 1938: Hatred and Home Runs in the Shadow of War
.
I won't go into all that here. For one thing, Paul Guggenheimer does a nice job of recapping the story in this piece in the Pittsburgh Post-Gazette. For another, it gives me the chance to urge you to buy my book.
It's in the final production stages, having gone through several rounds of editing and the insertion of the index and photos. Nothing for me to do now but wait for all the bags of money to roll in (that's a joke, son). There are a few interviews and appearances in the works, so that's nice. Always an exciting time for an author and it passes way too quickly.
Sadly, there's no photo of Greenberg and Robinson together, at least none of which I'm aware. If you know of one, I'd love to hear about it.
Save