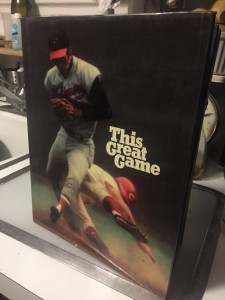 In a sense, this is the book that launched more than a thousand books, the first in what became an obsession.
This Great Game, published in 1971 by Routledge Press under the imprimatur of Major League Baseball, was an anthology, a of marvelous collection of photos and illustrations and narratives from some of the great writers of the day (and beyond).
It was also the first high-end baseball book I received, a gift from my late sister, Doris, as a birthday present when I was 14. And when I say "high-end," the cover price for this nifty 255-page package was a then-astounding $14.95.
This Great Game starts off with an essay — "Baseball in the mind" — by none other than Roger Angell, who's still kickin' it in his mid-90s. Other articles and stories come from the likes of Baltimore Orioles manager Earl Weaver on strategy; Douglass Wallop, author of The Year the Yankees Lost the Pennant (later turned into the classic musical Damn Yankees) on "The Salaried Elite," at a time when that meant earning $150,000 a season (this is accompanied by illustrations by the famed sports artists LeRoy Neiman); umpire Al Barlick with Jim Enright on "The Man in Blue"; "The Great Plays," by Joe Reichler, a long-time baseball PR specialist; "Beware of Moe," by humorist Roy Blount Jr.; and veteran sportswriter Dick Young on the topic of official scoring with "They Call That a Hit in Detroit." There's also a section of brief pieces delving into certain aspects of the game on the field.
Of course, that's a lot of reading for a 14-year-old, so I gravitated towards the marvelous color and black-and-white photographs, provided by Fred Kaplan and Richard Raphael. This Great Game was one of the earliest books of this kind. Perhaps my personal involvement with this one explains my affinity towards anthologies which combine the best of both worlds: the excitement and immediacy of the action as captured on film, along with the thoughtful and more languorous analysis and narrative.
You can find this one for as little as a penny on Amazon.com. Need I say more?