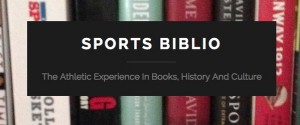 One of my new favorite sites is Sportsblibio.com, a site run by Wendy Parker, a veteran sportswriter, previously with The Atlanta Journal-Constitution. The site is "devoted to books and book reviews, journalism and literature, history and culture about the world of sports," according to its mission statement.
A site like this considers more than just baseball (but we won't hold that against it). Here's a recent sampling of entries about the national pastime:
The other stuff is interesting, too. Check it out.