It's holiday time and what's more timely for baseball fans than a goo book, or some baseball cards, or anything else that can fit on a bookshelf, or perhaps more relevant, under a tree?

Another post about opening up some packs.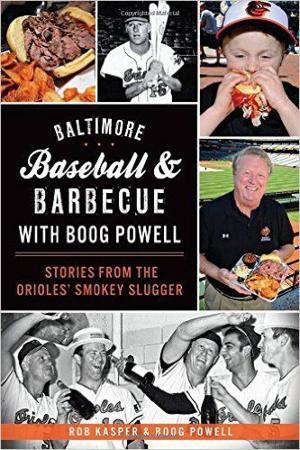 Nom, nom, nom. A tasty treat on Baltimore Baseball & Barbecue with Boog Powell: Stories from the Orioles' Smokey Slugger. Powell actually looks slimmer on the cover than he did in his playing days.

I would love to see the kind of "books" agents put out to market their clients. This one, for example, on Yoenis Cespedes. According to a story in the New York Daily News,
has a cloth cover and is fit, perhaps, for a coffee table. It's titled "52 Reviews" and it provides 52 — for Cespedes' jersey number – testimonials from around baseball about the free agent's blend of diamond skills.

And, according to someone who's seen the book, it comes complete with a video player built into the front cover that shows five minutes or so worth of Cespedes' highlights, which as any Met fan recalls, can be pretty spectacular stuff.
Yowza!

I'm just curious is anyone would dare giver Roger Angell's This Old Man a bad review? Not as long as he's still going strong and can hold a grudge is my guess.