(Note: I posted this originally on my blog about Jews and sports, but since it's based on a fantastic baseball book, I thought it would be appropriate here as well.)
And when I say "The Catch," of course I'm talking about Willie Mays' iconic grab in Game One of the 1954 World Series against the visiting Cleveland Indians.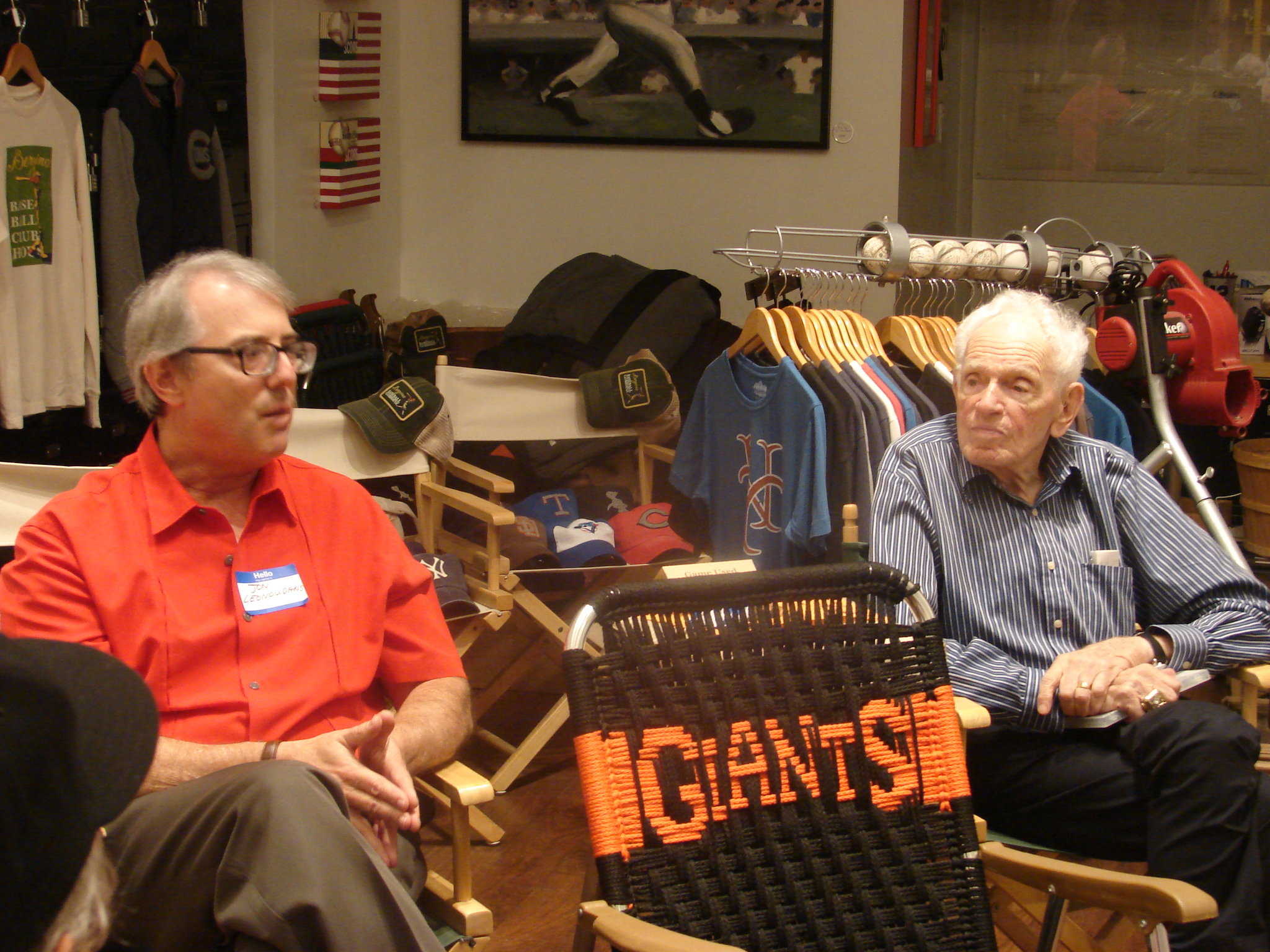 Why do I bring this up now? I just finished listening to a podcast recorded at the Bergino Baseball Clubhouse featuring Arnold Hano and Jon Leonoudakis, who recently released a wonderful documentary about the 93-year-old sportswriter.
(Sorry I missed that one. The place was filled with MOT sportswrting luminaries including Ray Robinson, Al Silverman (author and editor of the beloved Sport magazine), and Marty Appel.)
Hano wrote one of the classic sports books of all time with A Day in the Bleachers, his reportage of that game, which he just happened to attend on the spur of the moment.
Vic Wertz already had a triple and two singles when he came to bat in the top of the eighth inning with men on second and first. His blast to straight-away centerfield helped make Mays' legend. Not only was the catch amazing, but perhaps more impressive was the throw back to the infield, preventing the runner on first from advancing and keeping the game tied at 2-2.
Hano has wonderful recall and describes the action on the podcast in amazing detail. To listen, click on this link then click on the three lines in the top right-hand corner of the and scroll down to "A Century in the Bleachers" with Arnold Hano and filmmak…" (sorry, Jon, the title cuts off there).
So here's the trivia…
The runner on first base? None other than star third-baseman Al Rosen.
Another Rosen/Giants connection: he was the general manager of the team from 1985-92, winning The Sporting News' Executive of the Year Award in 1987.
By the way, a sealed Aurora model kit depicting "The Catch," manufactured in 1965, sold for more than $350 at auction in 2009.