If he had just been a Jewish ballplayer, dayenu, it would have been enough.
If he had just been arguably the best pitcher of his generation, dayenu.
But when Sandy Koufax declined to take the mound for the first game of the 1965 World Series? More than enough.
Fifty years later, Koufax's decision to sit out the game is a signal moment in American-Jewish history, one that even a black Baptist preacher like the Rev. Jesse Jackson called "one of the great statements in American athletics." It inspired individuals as different as a Chabad rabbi who personally thanked Koufax the next day, a famed New York Met who would himself sit out during the High Holy Days, and a current Major Leaguer who calls Koufax a "role model."
Ironically, when Sports Illustrated asked Koufax that year about his place alongside the game's great pitchers, he replied, "I can't picture people talking about me 50 years from now."
In 1965, Koufax was finishing up his penultimate season in the Major Leagues, having led the Los Angeles Dodgers to the National League pennant. The World Series was scheduled to begin Oct. 6 against the American League champs, the Minnesota Twins.
As the ace of the staff, the starting assignment fell to Koufax. But the future Hall of Famer calmly told his employers he would not take the ball that day: It was Yom Kippur.
Koufax did not grow up in a particularly observant household, but like Hank Greenberg — the first Jewish baseball superstar a generation before — he felt a responsibility to honor his heritage. While the Dodgers were losing the first game, Koufax was holed up at the team's hotel in St. Paul.
He started and lost the second game to put the Dodgers in a 2-0 hole. He bounced back to win the fifth game and returned on two days rest (instead of the usual four) to throw a 2-0 shutout to give the Dodgers the world championship. Koufax was named Series MVP and Sports Illustrated honored him as their Sportsman of the Year.
Considering Koufax's stature, the press at the time took little note regarding the reason for his absence. The Sporting News, considered "the Bible of baseball," didn't mention it at all and The New York Times just ran a four-paragraph wire service story.
The rabbi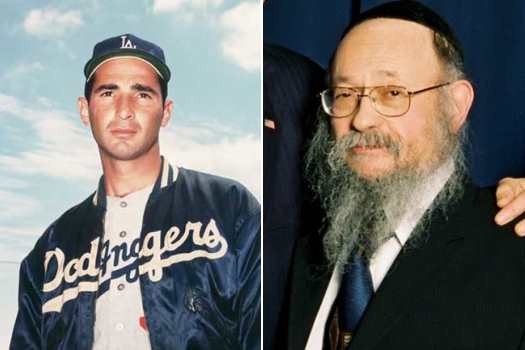 Rabbi Moshe Feller was 28 and a fervent baseball fan when he learned of Koufax's decision and made one of his own. Taking a bold step that would be impossible in today's security-conscious celebrity world, the Minnesotan went to the Dodgers' hotel the day after Yom Kippur with a gift for Koufax.
"I wanted to associate his famous left arm with tefillin," Feller, now 78 and the director of Chabad Lubavitch in St. Paul, told NJJN. "I knew the hotel where they were staying and I decided to go down and make a presentation. Now how would that be? Everybody in the world would love to talk to Sandy Koufax; he was the most famous Jew of the time. The likelihood of him seeing me on the day he was going to pitch and getting through to him? But I'm going to try."
Feller took the tefillin — the leather boxes and straps used by observant Jews during morning prayers — to the front desk. He told the clerk, "'I am Rabbi Feller and I want to speak to Mr. Koufax.' Now everybody knew he was Jewish — he didn't pitch the day before — so I must be his rabbi."
The clerk gave him Koufax's room number and Feller called from a house phone, making introductions: "The Lubavitcher Rebbe greatly appreciates what you did; we all do. You gave us an assist. You know how many Jewish kids didn't go to school, how many Jewish businessmen didn't go to business on Yom Kippur because you didn't pitch? More Jews knew about when Yom Kippur is from reading in the sports pages that you're not pitching than knew from the Jewish calendar because more Jews read the sports pages than from the calendar."
Koufax invited Feller up to his room and was "very gracious" when accepting the gift. "He held the tefillin and fondled the tefillin in the velvet bag. I wanted to put them on with him, but he intimated to me that he could do it himself," said Feller.
As the brief visit came to an end, Koufax said, "Rabbi Feller, they make a big fuss over the fact that I don't pitch on Yom Kippur. I don't pitch on Rosh Hashana either!"
"It was a big kiddush Hashem," or glorification of God's name, Feller said. "He's not particularly religious, but he knows he's a role model and people look up to him. So there was no way he was going to pitch on the holiest day of the Jewish calendar…. He accomplished so much with that deed. It swelled the pride of Jews the world over and of men of good faith of all religions that a guy thought more in this materialistic world where making a buck is number one, he chose to stick by principles that were important."
The Met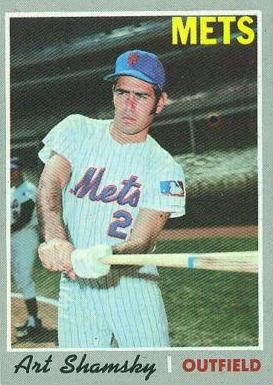 Former Major Leaguer Art Shamsky was in his second year with the New York Mets in 1969 when he informed manager Gil Hodges he would be taking some time off for the High Holy Days. In the heat of the Mets' pennant race, it was easier for a part-timer like Shamsky to take off than if he had been an everyday player.
"I learned of Koufax's decision…when the announcement was made," said Shamsky, who made his debut with the Cincinnati Reds in 1965. "It didn't affect me on a personal or religious level because at that time I considered myself a baseball player who just happened to be Jewish."
Shamsky said his decision "was strictly something that I felt I had to do. Over the years I have been astounded by the number of people who have thanked me for doing it, some of whom hadn't been born yet."
The Major Leaguer
Sam Fuld, a 10-year Major Leaguer currently with the Oakland Athletics, called Koufax "a role model for many, including myself." Fuld spoke with NJJN on the day the Athletics were hosting their Jewish Heritage Night game. "There are only so many Jewish ballplayers out there," he said. "And [Koufax] was the biggest star of them all."
Fuld laughed when asked about the tendency of Jewish sports fans to "claim" ballplayers as one of their own, regardless of how tangential their relationship is to Judaism. "It's never bothered me," said Fuld, the product of an interfaith marriage who celebrated both Jewish and Christian holidays growing up. "I've always embraced that part of my heritage and am proud to be a part of the Jewish community. I like that I'm expected to be a role model, much like Sandy Koufax was…. If I can be a role model to Jewish kids, I'm very much happy and honored to be a part of that."
"For Koufax, history will show that he not only was one of the greatest pitchers ever, but his status as a person with great moral character will live on forever," Shamsky said.
"It is a tribute to him that he has lived his life right. Fifty years later people still remember."
On with the show…
The preceding appeared in the Sept. 17 print edition of New Jersey Jewish News, which, being a print publication, is limited in space. But several others ladies and gentlemen from various walks of life were kind enough to contribute their thoughts, which I am happy to offer you here:
The Clergy
Rabbi Jason Miller, who regularly blogs about sports, was in the first grade when Koufax sat out.
"Going to a Jewish Day School in suburban Detroit, our teacher told us about how both Sandy Koufax and Hank Greenberg sat out significant games on Yom Kippur," Miller said in an e-mail. "It made me feel proud as a Jew."
Nevertheless, he has empathy for the difficult decision facing some ballplayers. "I think that when Jewish athletes publicly choose to avoid playing on Yom Kippur it makes many in the Jewish community proud, but ultimately, I don't think it's for us to demand how our fellow Jews choose to observe — or not observe — Jewish holidays or Shabbat. I feel bad when non-observant Jewish players feel pressure to decide whether to play on Yom Kippur or not. In some cases, they're non-practicing individuals who don't feel any sense of commitment to Jewish law, but for PR sake they feel compelled to not play.
Miller summed up, "As a rabbi, I could see using the 'controversy' of Jewish professional athletes having to decide to play or not as an example of what it means to be known as a Jewish player and content with public pressure. For children, I think we can use the examples of Koufax and Greenberg as moments of pride for the Jewish community. However, I don't think it's wise to continue with an expectation that Jewish players will avoid competition on Jewish holidays — even on the holiest day of the year."
*****
Rabbi Rebecca Alpert, a professor of Religion at Temple University and author of Out of Left Field: Jews and Black Baseball
, appeared in the 2010 documentary Jews and Baseball: An American Love Story. She wrote Koufax the following letter in appreciation after his participation in the project:
August 2010

Dear Mr. Koufax,

When I agreed to be a "talking head" on "Jews and Baseball: An American Love Story" I never imagined that I would have the experience of a lifetime: to share the silver screen with you, to hear from the film's director, Peter Miller, that I was "mentioned in the same breath with Sandy Koufax in many reviews" he overheard at the premier. I am sure he was flattering me, but the idea that I might be mentioned in the same breath as you meant more to me than anything anyone has ever told me.

I was so very proud to contribute a few words, captured in the trailer, ("Koufax did not pitch on Yom Kippur. Amazing! Enormous!") in tribute to you– a man I have admired for as long as I can remember, literally. Growing up a Dodgers fan in Brooklyn, I followed your career even across the country; you were the only Los Angeles Dodger my Brooklyn-loyal but Jewishly-committed parents would let me root for. I was dazzled by your amazing accomplishments on the mound and kvelled over your willingness to stand up publicly as a Jew by staying off the mound when it mattered.

I have remained impressed with you over the years. Your quiet presence and modest demeanor has moved me deeply, as you have carried the role that Jane Leavy so aptly described as "King of the Jews" with grace and dignity. My partner is not interested in baseball, but listening to your wise and self-effacing words in the film made her reconsider my crazy passion and understand why I have such respect for you. Thank you for that gift.

You have given so much to me personally and to so many Jews of my generation and the next several, that I am truly honored to have the privilege to say Happy 75th Birthday, Sandy, and wish you the customary "ad meah v'esrim," may you live to be a hundred and twenty.

In gratitude,

(Rabbi) Rebecca Alpert
****
 The sports professionals
Richie Scheinblum was a Jewish Major Leaguer who made his debut in 1965 as a member of the Cleveland Indians. Years later, he became one of the few Jews to play professional baseball in Japan. His team, the Hiroshima Toyo Carp, won the Central Division title and was set to play in the Japan World Series after being a perennial cellar-dweller.
"The first game fell on Yom Kippur, and I had to tell them it was my day of atonement," he said in an e-mail. Scheinblum did not play that game, out of respect for his deceased parents.
"They did not understand," he said, "but I stayed in my apartment until the doorbell rang." Dozens of reporters showed up with interpreters to witness this unprecedented situation. "They came to watch me pray. The next day in a magazine, they showed me on my knees in front of the TV, where the game was on, and I was in my Carp uniform."
*****
Marty Appel, who starting his career in baseball PR working for the Yankees answering Mickey Mantle's fan mail, was in college at the time. "My thought was that he made the best decision under the circumstances, because the ramifications of pitching would have exceeded the message of not pitching….  He just knew it would be seen as bad form to play.  It turned out to be a seminal event in the telling of his life story, but being pragmatic, at the time I just thought it was Sandy doing what he had to do."
 *****
The leaders
Daniel Kurtzer, former U.S. Ambassador to both Israel and Egypt, told NJ Jewish News in an e-mail that he couldn't recall his feelings about at the time of Koufax's decision, "but I do remember the buzz among members of my family and their friends.  It was very exciting to hear so many people talk about baseball!
"I began to experience and feel the impact of his action only some years later, when I entered the State Department and was confronted with Shabbat and holiday issues," said Kurtzer,  who also served as commissioner of the short-lived Israel Baseball League in 2007. "Back then, there was little precedent for someone trying to observe Shabbat/holiday time limitations…, and the attitude of some within the State Department was to argue that I couldn't expect to work in the Near East Bureau if I routinely wouldn't come in on Shabbat.  I did cite the Koufax precedent a few times to indicate that one could actually excel in one's profession even if he or she observed religious tradition.  I'm not sure that the argument carried much sway, but it certainly made me feel better about my decision to stand by my principles."
*****
John Sexton, former president of New York University and co-author of Baseball as a Road to God: Seeing Beyond the Game
, has been a Dodgers fan since childhood. He was studying for a PhD in history of American religion at Fordham University in the fall of 1965.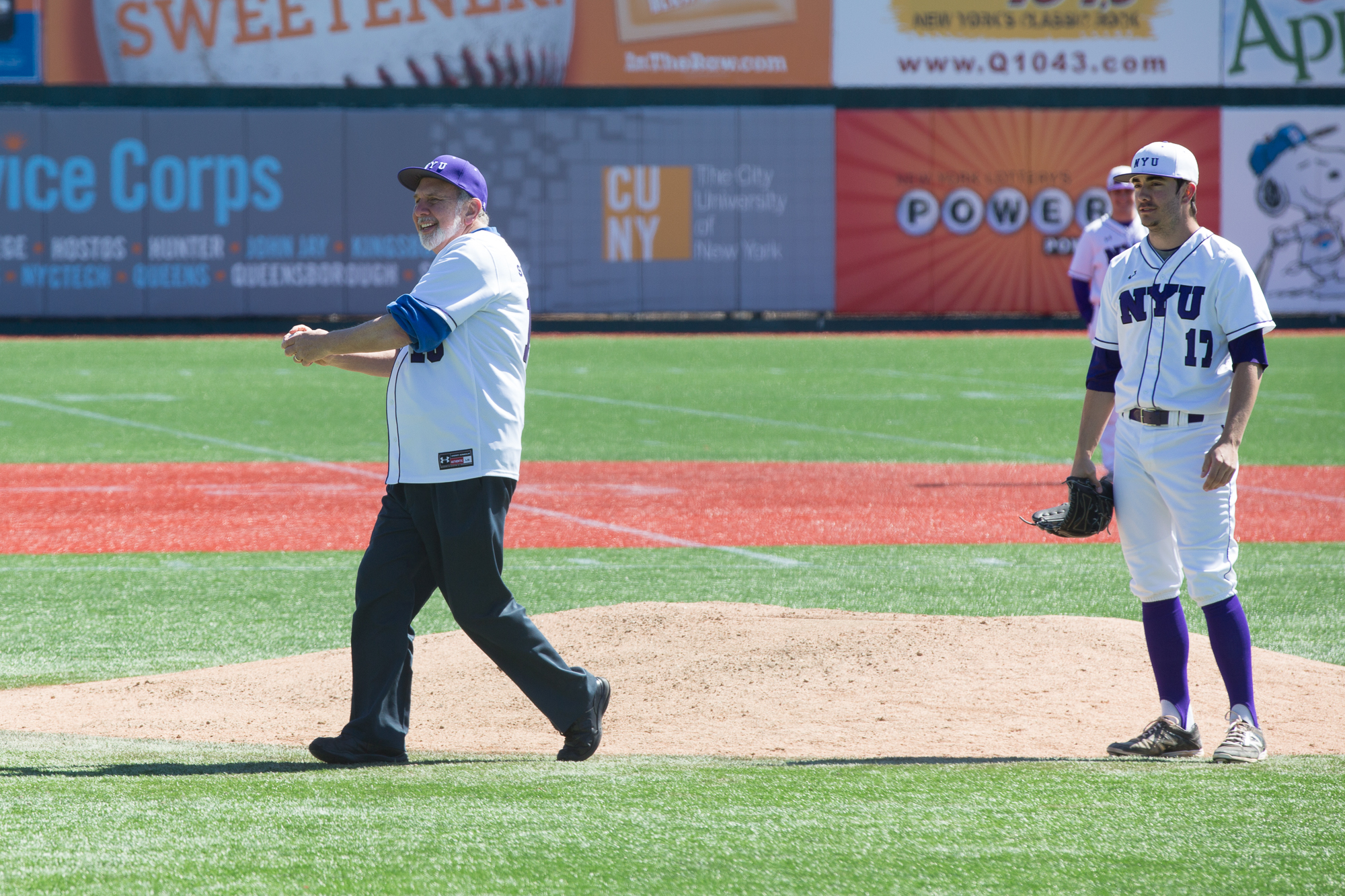 "When I heard of Koufax's decision, I recall a feeling of great respect wash over me — respect for his choice, and for his own respect of tradition — and how, in real time, we were seeing a generation of fans and future players being inspired," said Sexton in an e-mail. "The parallel to Hank Greenberg and what he did more than 30 High Holy Days earlier was unmistakable."
Sexton, a Roman Catholic who married a Jewish woman, has found great admiration for Koufax that has only increased over the decades.
"Koufax's decision lives in lore not only because he was true to his principles but also because of his MVP performance in the games that followed. If anything, my great respect for his decision has been underscored in the years since, especially each time a younger Jewish fan — those who weren't even born yet in 1965, my son included — describe Koufax and the events of that World Series, in particular, as inspirational."
Sexton sees those athletes who put their game aside in favor of a higher issue as dealing with "a matter of distinction than burden. Not all Jewish ballplayers have taken themselves out of the lineup in similar situations since, but those who have are part of a select group that includes two Hall of Famers, Koufax and Greenberg."
Nor is such an exhibit limited to Jews.
"These events do not necessarily exist in a vacuum," he said. "I can't help but think if a prominent Muslim baseball player emerges, for example, and makes a similar decision to sit-out during Ramadan, a Koufax-like hero can emerge again to an entirely new group of fans."
*****
Like many others who responded to my queries, Jeff Katz, the mayor of Cooperstown, NY, and author of Split-Season, did not grow up in an especially observant home.
"Koufax was always a family hero," Katz wrote in an e-mail. "I was born in 1962, so by the time I came to baseball, say 1967 or 1968, he was an announcer. The first time I remember reading about him was in George Vecsey's The Baseball Life of Sandy Koufax
, a Scholastic book that I got when I was nine.
"I was brought up Conservative, so Koufax's decision was meaningful," said Katz. "As a young kid, Jewish athletes meant a lot to me, especially the superstars who were hard to come by. (Meeting Skip Jutze at my temple in Lake Ronkonkoma, Long Island, was cool, but he was no Koufax.) The reputation of brainy Jews who have no athletic ability is pernicious, and leads to a real clinging by Jewish people to Jewish athletes."
Katz suggested the mania for Jewish athletes stems from a common problem, blamed on Jewish parents that was probably truer going back a few generations than it might be today.
"I was always a so-so athlete," he said. "Sometimes very good, sometimes very bad, but I was a huge sports fan and liked to play. [But] my parents, like so many other Jewish parents, didn't encourage my interest in athletics and…that hurt my chances of making teams. It's because of this somewhat prevalent attitude of Jewish parents towards sports that Jewish kids are intensely dedicated to Jewish athletes. To me, it felt like somehow they had found a way to escape the negative bias they no doubt got at home. There's a certain sense of liberation in that idea."
*****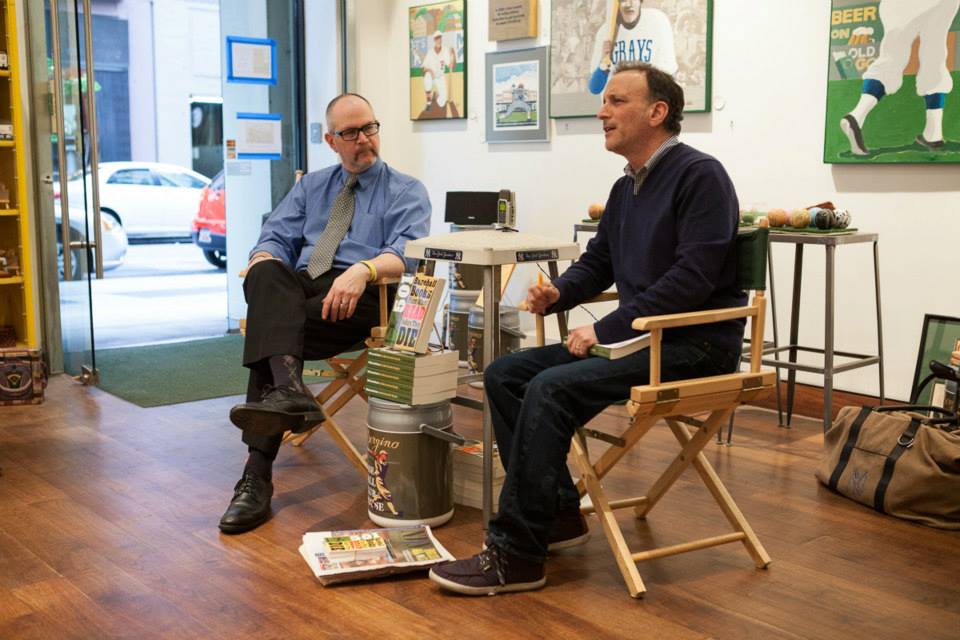 Jay Goldberg, owner the Bergino Baseball Clubhouse in Manhattan, was too young to remember the event in real time.
"I was probably about eight or nine when I first remember hearing about Sandy Koufax and Yom Kippur.  My parents told me about it; I learned about it in Hebrew School; I heard about it at Camp Ramah," he said in an e-mail. "As a child, I didn't fully understand the implications of his action.  I grew up in a Conservative Judaism environment.  I didn't go to school on Yom Kippur, my dad didn't go to work, so it didn't seem unusual.  But through the years, I have come to truly appreciate Sandy's decision."
"He was not an observant Jew.  If he were, the decision would have been easy," Goldberg said.  An observant Jew would never work on Yom Kippur; no decision needs to be made.  But for an 'unobservant' Jew to take this action on one of the most important days of his business life is heroic.
"He set an example and made a public statement with this action.  The more I understood what he did, the prouder I became. A proud Jew…. While I have been a huge fan of many ballplayers through the years, with the exception of Jackie Robinson, he is the only other baseball player I consider a hero," said Goldberg.
*****
The media
Vin Scully has been calling Dodger games for over 60 years, dating back to their days in Brooklyn. He was there to see Koufax evolve from a hard-throwing rookie with no control to one of the all-time greats of the game. While exact details are hazy — small surprise for someone who has called more than 5,000 games — Scully said in an e-mail he learned about Koufax's decision "few days before" the opening game. "We were all caught up with World Series fever and excitement." Scully guessed the rest of the Dodgers were not overly concerned. "Everyone respected Sandy and we all knew he would pitch the next game."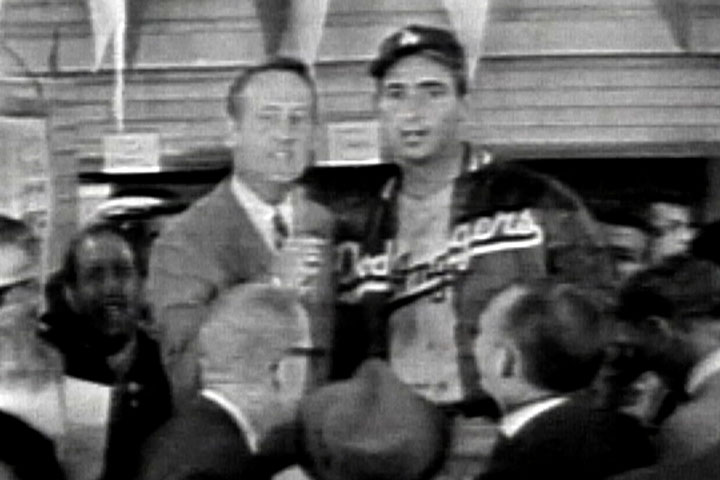 *****
You don't even have to be a fan of the iconic left-hander to appreciate what he did. Journalist Jane Leavy — author of the best-selling Sandy Koufax: A Lefty's Legacy
(as well one on her real hero in The Last Boy: Mickey Mantle and the End of America's Childhood
) — was a teenager in 1965. She expressed her feelings in an e-mail:
In those proto-feminist days, I was doing my best to disavow my tomboy past and fit in — assimilate, if you will — with the girly girls in my high school class who were getting nose jobs and applying lots of eye makeup. So I am not sure I watched the World Series, though I have a dim memory of having done so.  I'm not even sure I knew about Sandy's decision not to pitch the opening game.  Neither this act, nor his perfect game three weeks earlier, would have been on my political radar screen.  To me, Sandy Koufax was the guy who humiliated my guy, Mickey Mantle, in the 1963 World Series when I was still admitting to my romance with the game.

I'm sure I knew [Koufax] was Jewish but I didn't dwell on it.  Nor did I give it much though at all until I agreed to write a biography of him for HarperCollins in 1999.  It was not until then that I came to appreciate the significance of his decision not to pitch that day; nor did I appreciate the quality of the man who had humiliated The Mick.  Now I know I was rooting for the wrong guy.  Like me, Koufax is not an observant Jew (sorry, grandma) and yet, like him, I consider myself a deeply Jewish being.  His decision not to pitch that day resonates deeply with me now because of his assertion of his right at a time when baseball players had no rights, to worship or not worship, observe or not observe as he saw fit.  It resonates as an act of filial duty to his parents, then alive, and to his community.  It resonates as an exemplar of doing the right thing without the need to advertise or monetize its significance.  He just did as he had always done: outside the glare of World Series media attention.

As a result he became an inadvertent patriarch — Abraham, Isaac, Jacob, and Sandee!" — something he neither wanted nor expected to be.  His public silence on the matter, broken briefly for the 2010 documentary Jews and Baseball was eloquent, unspoken testimony to the fact that nothing he could say would be as powerful as the act itself.  He makes me proud to be a Jew."
*****
Alan Freedman, editor and publisher of Jewish Sports Heritage magazine, recalled "This was major news to my friends and I — the best pitcher in the game not pitching on Yom Kippur. We talked about it a lot [but] did we think it would be something that a writer would ask us about 50 years later? No, of course not. But we were very proud of Koufax for standing up for what he believed in and the fact that we was Jewish; we were kvelling for a long time about it."
 *****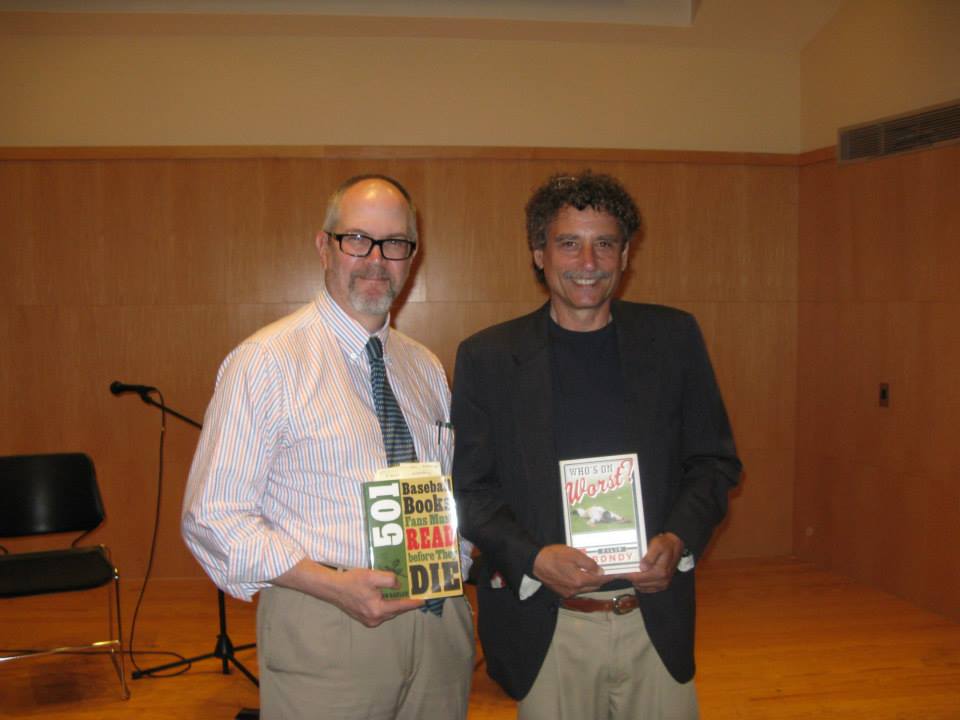 Filip Bondy, an author and  veteran sports columnist who was recently dismissed by the NY Daily News in their latest round of cleaning house, looks at Koufax's decision a different way.
"I think there is an unfair burden placed on Jewish athletes to observe the holidays," said Bondy, whose most recent — The Pine Tar Game: The Kansas City Royals, the New York Yankees, and Baseball's Most Absurd and Entertaining Controversy
— was released this summer. "They shouldn't be placed in a position where they have to answer the no-win question, 'Will you work on Yom Kippur?' If a Jewish player is religious, that's one thing. But a cultural, non-practicing Jew should not be vilified or made to feel guilty about participating in sport. NBA players perform on Christmas. Nobody asks LeBron James, 'Will you be working on Christmas?' A job is a job. it could be argued that Koufax did future Jewish athletes no favors by amping up the pressure."
*****
Sportswriter Howard Megdal was one of those young fans to whom Sexton and Shamsky had referred.
The Koufax story was absolutely a regular part of our Rosh Hashana/Yom Kippur for as long as I could remember," said the 35-year-old author of The Baseball Talmud: The Definitive Position-by-Position Ranking of Baseball's Chosen Players
in an e-mail, "just as Hank Greenberg's actions 31 years earlier had been a bedtime story."
As the father of two young girls, Megdal put Koufax's statement in perspective. "There are larger matters than work in life. Koufax's choice gives us a chance to remember this."
*****
And last but not least, the man himself: Sandy Koufax in a clip from the Jews and Baseball documentary. The excerpt also features comments from Alpert, Rabbi Michael Paley, and the late, great sportswriter Maury Allen.
As Yogi Berra might have said, "Thank you, Sandy, for making this post necessary."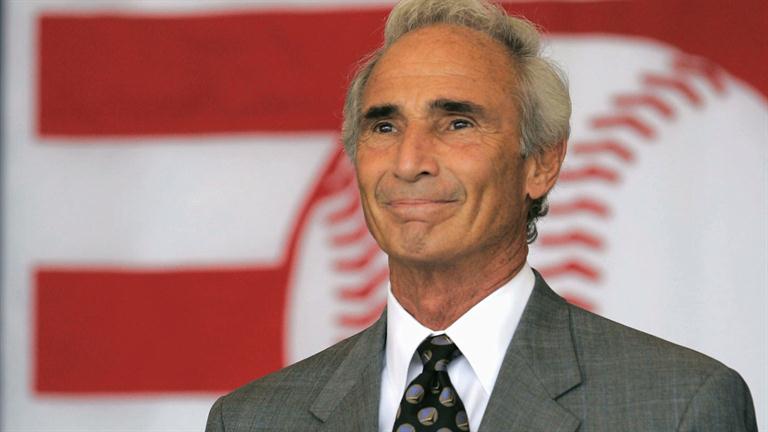 For further reading: In addition to Leavy's arguably definitive bio, try these on for size…