Another in a series of feeble attempts to catch up on older items. You will forgive the possible occasional duplication from previous entries.
First off, well, this is kind of insulting to baseball and books.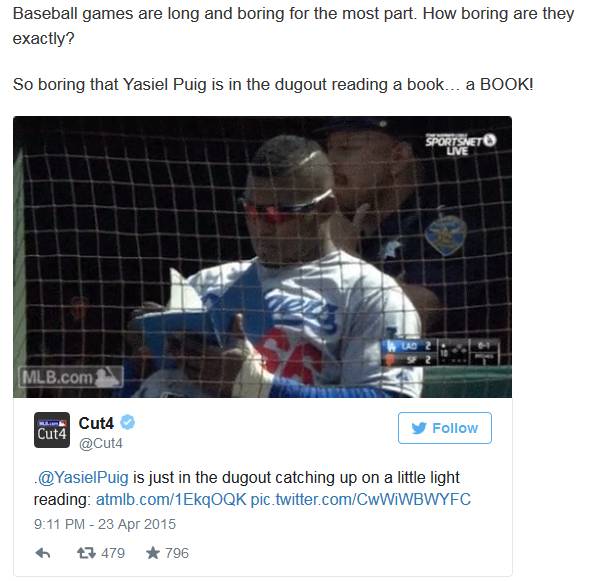 * Ed Lucas received a lot of attention for his recent memoir, and rightly so. I had a great conversation with his son and co-author, Chris, and had the pleasure of meeting him serendipitously at a Bergino Baseball Clubhouse event. Here are a couple of stories dealing with the senior Lucas.
* Jonah Keri, my Montreal landsman, talks about his Expos book.
* The Daily Beast posted one of those lists of "favorites" that comes out early in the season, including a novel I had never heard of before (or since). This one is fairly substantial, but to be honest, I question its spirit. The piece was posted on April 12. One of the titles included doesn't come out until July, and knowing a bit about how the publishing industry works, I know they wouldn't have review copies that far in advance, so I wonder how the writer favored it as one of  "The Season's Best." Just sayin'.
* Here's a similar list from the Fredericksburg Free Lance Star. And one from the Dallas Morning News.
* Wicked Local Plymouth posted this suggestion for three books worth a look.
* Bob D'Angelo posts reviews frequently on the Tampa Bay Tribune site. Here's his take on Bill Pennington's Billy Martin bio. And another on Cincinnati Reds Legends.
* Here's another Martin review from the Buffalo News. The author was a guest on the Baseball as It Was podcast which you can hear here.
* In addition to books written for a younger audience, I rarely look at titles that deal with regional baseball. That;s not to say they're not great, but there are only so many hours in the day. Here's a review about The Appalachian League.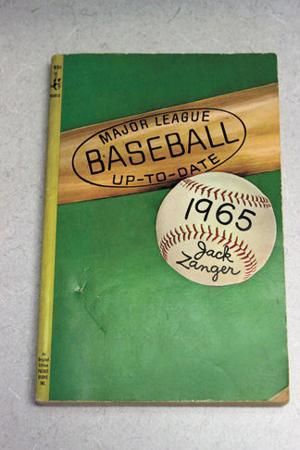 * Here's a fun one for me: a reassessment of the accuracy of predictions in Jack Zanger's Major League Baseball Up-to-Date, 1965, which is a part of my collection. In fact, I have a run of these from 1962 through its numerous versions going into the early 1980s.
* This short video about "How to understand WAR"appeared on Slate.com  As someone who has not fully embraced the totality of sabermetrics because, you know, math, I don't find this very accurate. It's not so much how to understand WAR as why it's important. (Note, how to understand is not the same as how to calculate.)
* Forbes published this piece about Steve Kettmann's bio on Mets general manager Sandy Alderson.
* AL.com, an Alabama-centric site, posted "Four questions with Doug Wedge, author of 'The Cy Young Catcher'." I wrote about the dubious choice of title for the Charlie O'Brien book several months ago.
* Another baseball novel I had not heard of: The Mickey Mantle Murder by Walt Brown.
* Here's a profile of W.P. Kinsella on the occasion of The Essential Kinsella, a new collection of his work.
* And a review of Gary Cieradkowski's excellent product, The League of Outsider Baseball per the Charlotte Observer.  And another in the Los Angeles Times.
* Dave Davies hosted this interview with Mike Matheny, manager of the St. Louis Cardinals and author of The Matheny Manifesto, on the NPR show Fresh Air.