I love collecting first editions of magazines, so it was a nice surprise when I received this on Saturday, totally out of the blue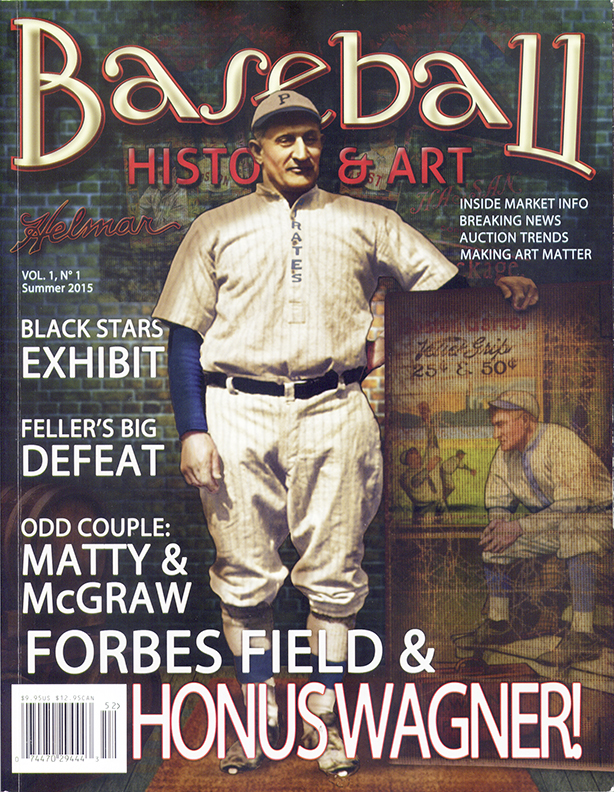 Very snazzy. The new offering from the  Helmar Brewing Company considers what publisher Charles Mandel calls "modern vintage" cards, although there's lots of non-collectible features, too. Mike Shannon, editor-in-chief of the popular Spitball Magazine, handles the editing chores for this one, too.
Among the articles in the premier edition:
An interview with baseball publicity guru Marty Appel.
"Finding Home," about the "cohabitation" practices of NY Giants manager John McGraw and ace pitcher Christy Mathewson.
"Ticket Stub," which focuses on the face-off between Hall of Fame pitcher Bob Feller for the Cleveland Indians and "no-name" Detroit Tigers hurler Floyd Giebell for the AL pennant in 1940.
An appreciation of Forbes Field.
A profile on "master collector" Jerry Bradley.
A book review by Shannon of The Top 100: The Best Baseball Cards to Own.
Players we ought to know: Ginger Beaumont
Now, to be honest, I'm not a collector anymore and never was when it comes to the cards from the early 20th century (and before), so  I can't speak to the details of articles that focus on those topics, nor — since this is the first issue — can I say which items will recur in subsequent editions. I can say this is an extremely well-done, lushly-illustrated magazine, well worth the $9.95 cover price, with subscription to either print, digital, or both editions available.
It reminds me of the short-lived 108 Magazine, a more general but similarly well-produced publication that lasted just a few issues. Here's wishing Baseball History & Art a better fate.