In addition to noting Jeff Katz's book about the 1981 season, Tyler Kepner also pointed out a new problem afflicting young fans.
Seems they're old enough to buy baseball cards and other merchandise, but thanks to the new online-only procedure for voting for the All-Star Game, fans under the age of 13 cannot participate.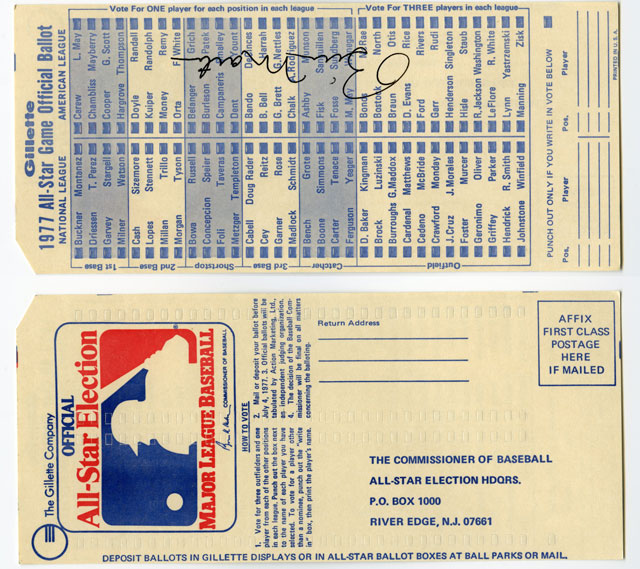 While it may sound like great news for the "green community," not having to print all those ballots, it may be a metaphoric matter of penny wise and pound foolish.
From the column:
Paper Ballot Fallout

Major League Baseball made a logical move this season by eliminating paper ballots for the All-Star Game. Close to 90 percent of all ballots are cast online, the league said, and the decision saves paper and money. Also, without needing to print in advance, the league can include players who were not on opening day rosters, like the Chicago Cubs' Kris Bryant.

But there is one casualty in the new system: Honest young fans cannot vote on their own on a personal computer. If fans under 13 submit their real birth dates when casting ballots that way, the system replies that they are ineligible to vote, with no reason given.

That is bound to be confusing for would-be voters, who could reasonably conclude that baseball does not care for their opinions or want them involved in the process. The league said it had no choice.

Pat Courtney, the chief communications officer for M.L.B., said that federal law prohibited companies from knowingly collecting personal information online for children under 13 without the consent of a parent or guardian. The league must have a registration process for voting, Courtney said, to prevent hackers from casting mass ballots and disrupting the vote.

The ground rules were different when paper ballots were available at ballparks because no registration was necessary. A better alternative for voters under 13, Courtney said, would be to vote through the M.L.B. AtBat mobile app, which is not subject to the same age restrictions.
Of course, another avenue to voting for a young fan on a personal computer is to submit a false birth date. That would work, too, as an imperfect solution to a streamlined, but not quite flawless, new system.
Baseball is always talking about trying to increase the younger fan base, realizing all the competition it has from other sports and activities. But it seems someone in the office isn't getting the message.
And what's with this nonsense about being able to vote up to 35 times? What kind of multimillion dollar studies were done to come up with that number?