Bob, a distant relative of my wife, passed away recently. He lived in Hoboken with his wife, who died several years ago. I didn't know him well. He was a very quiet fellow who kept to himself during the biennial family reunions. I can't even recall his last name on my own.
It turns out Bob was a huge baseball card collector. Since he and his wife had no children, his sister-in-law — knowing of my interests — asked if I would mind taking a look to see if there was anything worth saving. I'm no expert in that particular field, but agreed to drop by last Saturday, despite my semi-abnormal fear of driving to places unknown.
Indeed, Hoboken was a nightmare. The recent snows left the already narrow streets practically impassable. Amazingly, I found a space to park just a couple of block s from the apartment building (technically an illegal spot, but I crossed my fingers the police would not be so punctilious given the conditions).
I must admit I was unprepared for what I found. There must have been at least 100,000 cards, in albums, in boxes, in paper bags. Not all were baseball cards; there was also football, basketball, hockey, wrestling, boxing, non-sports. Some were in sets still encased in the original shrink wrap. The  overwhelming majority were from the mid-80s to mid-90s and had no value. That is, unless you were willing to go through every single item, the veritable needle in a haystack.
The woman's husband, who was also there (and doesn't really have a clue about the memorabilia/collecting aspects), had already put some things aside with the idea that they might be worth selling. He was not prepared to contend with the due diligence, he just wanted to be done with it.
I went with the understanding that I could pretty much have my pick of the lot  and although there were a few odds and ends from the mid-1960s I would have liked to have for nostalgia's sake, the short story is that I came away with one album of replica cards from the early 20th century. No monetary value, but they look pretty. The rest of the stuff no doubt will be thrown out shortly. I barely recall some sort of on-line drive to send cards to kids in hospitals, etc., so if anyone knows about such things, please let me know as soon as possible so I can at least pass that info along.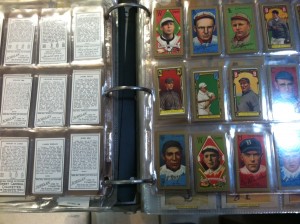 I really can't say I was disappointed in coming away so empty. The truth is, participating in this exercise — and forgive me for being a Donnie Downer for a moment — I came to the realization that the accumulation of "things" is pretty pointless, when you look at it in a fatalistic light, which was basically what Saturday amounted to. Bob spent so much time, money, and effort buying and arranging these things and ultimately most of it will wind up in the trash.