In addition to the thousands upon thousands of baseball cards, Bob had a handful of baseball publications, most of them pertaining to fantasy baseball with a few Bill James Abstracts thrown in. This caught my I so I asked for it.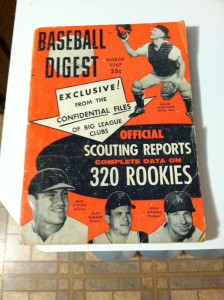 More than any other issues, I think I enjoyed the March edition of Baseball Digest the most. It's especially fun to go back, with the benefit of hindsight, to see which players the experts picked amounted to something.
It's amusing to see who the editors picked to appear on the cover because none of these guys amounted to all that much, all due respect. Sure, Mike Epstein had a few good power seasons, and Duane Josephson was a serviceable backup catcher while Luke Walker had a so-so career on the mound, mostly for the Pirates. John Werhas, on the other hand, had just three seasons in the Majors, appearing in 89 games and batting .173. Time and a lack of interest prevent me from exploring further.
I thought it would kind of amusing to see who the editors did pick as the leading candidates for each of the then-20 teams, so here are a few highlights of who was in the Class of '67, focusing only on those who made a fairly decent go of it, with the most successful, IMO, in bold. Interesting factoid: each capsule includes the players place of birth, current residence, and marital status.
Baltimore Oriole: Mark Belanger, Bill Dillman, Mike Epstein, Mike Fiore, Larry Haney, Dave May, Curt Motton, Tom Phoebus, Merv Rettenmund
Boston Red Sox: Mike Andrews, Bill Conigliaro, Billy Farmer, Bill Landis, Jerry Moses, Bill Rohr, Reggie Smith, Gary Waslweski
California Angels: Marty Pattin, Aurelio Rodriguez, Jim Spencer
Chicago White Sox: Duane Josephson, Roger Nelson, Ed Stroud, Bill Voss, Walt Williams
Cleveland Indians: George Culver, Ray Fosse, Dave Nelson, Richie Scheinblum
Detroit Tigers: Pat Dobson, John Hiller
Kansas City Athletics: Salvatore (Sal) Bando, John Davidson, Dave Duncan, Rolland Fingers, Ted Kubiak, Tony LaRussa, Rick Monday, Joe Rudi. As you can tell the As had a great crop/
Minnesota Twins: Rod Carew, Pat Kelly, George Mitterwald, Graig Nettles, Rich Reese. Two Hall of Famers.
New York Yankees: Mike Ferraro, Mike Hegan, Bill Robinson. Not a heyday for the Yankees.
Washington Senators: Hank Allen (brother of Richie/Dick), Dave Baldwin (a Facebook friend), Joe Coleman, Tim Cullen, Bill French
Atlanta Braves: Clarence (Cito) Gaston, Mike Lum, Ron Reed, Cecil Upshaw, Earl Williams (a Rookie of the Year).
Chicago Cubs: Bill Connors, Fred Norman, Rich Nye, Ken Rudolph, Don Young
Cincinnati Reds: Johnny Bench, Bernie Carbo, Lee May, Harold McRae. Another very string system. Any coincidence that they faced off against the As in the World Series a few years later?
Houston Astros: Tom Griffin, Leon McFadden, Norm Miller, Doug Rader, Bob Watson
Los Angeles Dodgers: Mike Kekich, Bill Singer
NY Mets: Don Bosch, Ken Boswell, Kevin Collins, Bill Denehy, Greg Goossen, Bob Heise, Jerry Koosman, Nolan Ryan, Tom Seaver. Two more Hall of Famers; not too shabby.
Philadelphia Phillies: Ron Allen, Denny Doyle, Larry Hisle, Grant Jackson, Gary Sutherland
Pittsburgh Pirates: Dock Ellis, Bob Moose, Al Oliver, Bob Roberston, Manny Sanguillen, Luke Walker. Yet another strong grouping.
St. Louis Cardinals: Wayne Granger, Mike Torrez, Ron Willis
San Francisco Giants: Bobby Bonds, Ron Bryant, Dick Dietz, Bobby Etheridge, Al Gallagher, Ken Henderson