Trying to clear out the old mail box before the holiday:
MLB historian John Thorn posted this photo on Facebook of a joint 1969 publication, ostensibly by Pete Rose and Denny McLain: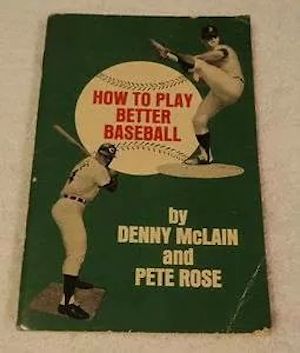 At the time, Rose and McLain were the best in the game. Dayn Perry, author of a couple of baseball books of his own, thinks, in retrospect, that this qualifies as "Your 'unfortunate in hindsight' baseball book of the day."
As I wrote on FB, "All due respect…, we're not looking at Rose or McLain to be standards of morality. They were high-performing baseball players and this book, published in 1969, reflected nothing more than that."
The Saute Ste. Marie Evening News website posted this review of Saving Babe Ruth
, which "examines the unseemly side of youth baseball." (UPDATE: The review, by longtime Bookshelf friend Dennis Anderson, originally appeared in the Peoria Journal Star.)
NESN.com posted this piece with Bill Nowlin, co-author of Don't Let Us Win Tonight: An Oral History of the 2004 Boston Red Sox's Impossible Playoff Run
.
When I visited the Bergino Baseball Clubhouse for last week's Dan Epstein appearance, I just missed the crew that was shooting a new documentary about the NY Mets 1986 championship season. Here's a story from the NY Daily News on attempts to raise funds for the project via Kickstarter.
Speaking of Epstein, he's certainly making the rounds for his Stars and Strikes: Baseball and America in the Bicentennial Summer of '76
. Here he is on Olbermann:
From SouthernIllinois.com: "As Paul Dickson, who wrote T" opined, 'The world is divided into two types of baseball fans: Those who keep score at the ballgame … and those who have never made the leap.'" That's the basis of this article on the topic.
I missed posting this piece about an appearance by Amber Roessner, author of Inventing Baseball Heroes: Ty Cobb, Christy Mathewson, and the Sporting Press in America
. It's one of the titles I'm looking forward to reading.
Finally, tomorrow marks the 75th anniversary of Lou Gehrig's famous farewell speech. MLB picked first basemen from each team to recreate the iconic moment:
Jonathan Eig, author of Luckiest Man: The Life and Death of Lou Gehrig
, wrote this piece for The Wall Street Journal a couple of weeks ago. (sorry, paywall.)