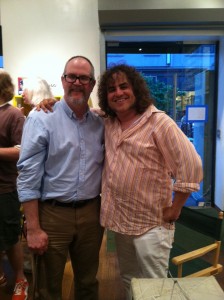 Like any tool, social media can be a force for good if used properly. Case in point, it's allowed me to "meet" some really cool people, including Dan Epstein, whose book tour for Stars and Strikes: Baseball and America in the Bicentennial Summer of '76
brought him to the Bergino Baseball Clubhouse last night. I made one of my infrequent forays into Manhattan because I wanted to see him live and in person and this would probably be my only chance, since he's a west-coaster.
I traveled in early mid-afternoon to avoid rush hour and after a brief trip to the Strand Book Store (where I purchased a copy of Philip K. Dick is Dead, Alas, by Michael Bishop, who is also the author of Brittle Innings, one of my favorite baseball novels), I walked a few blocks over to Bergino, well ahead of the seven o'clock event. It's always nice to chat with Jay Goldberg, proprietor of the store, about his author events (I had the pleasure of doing one last year; more here, including photos) to see what possible guests he might have in the future.
While I was there, a husband and wife popped in and I couldn't help but overhear his name: James Finn Garner, who, with Stuart Shea, runs the entertaining Bardball.com. Small world, made even smaller by the fact that they were staying with relatives just a few blocks from my house in Jersey.
Epstein arrived with his new bride, Katie Howerton, and entertained the packed house with stories about baseball in 1976. Among the folks in the audience: Erik Sherman, co-author of Mookie: Life, Baseball, and the '86 Mets
, and Judy Lynn Johnson, author of the memoir Watching the Game
, who I had met at the Hofstra Symposium honoring the 50th anniversary of the Mets.

The connective tissue? I first encountered all of them on some version of social media.If not for that, I probably would never have had the pleasure of making their acquaintances.
Three Jewish guys talking baseball: Bergino owner Jay Goldberg joins in the fun.