If you've been a reader of this blog for awhile you know I'm all about the process. I love back-story and deconstruction. I want to know, like any reader, how authors come up with ideas, who their inspirations were.
So it was with a sense of serendipity that I came across this yesterday at my local library: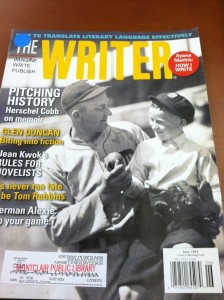 To be honest, I have Heart of a Tiger: Growing Up with My Grandfather (2013) on my bookshelf, but have not read it yet; my feelings about memoir are no secret. But there are many who consider this a great account as evidenced by Cobb's receiving Spitball Magazine's Casey Award. So without further adieu, here's the Writer interview with the author.