Every now and then I get a bit antsy about the state of 501 Baseball Books Fans Must Read before They Die
. I check the Amazon rankings more than I should and am (relatively) happy when it rises, sad when it falls. Fluctuations are constant. It's been as high as 9,005 and as low as 847,000+, and I've seen it jump 500,000 spots from one check-in to the next, then slowly sink again.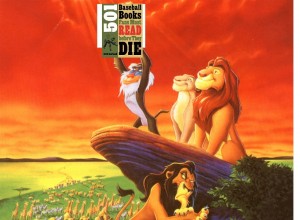 A few weeks ago, I asked my publisher to send a review copy to a prominent baseball writer at MLB.com. Checking in today, he still hasn't received it. Fortunately for them, I'm an easy "client." I understand, perhaps better than most, how the business works. For 99 percent of writers, once your project is done, they're done with you; you become an entry in their data bank. New projects demand their attention and even the big publishing houses don't have the resources to treat their rank and file authors with anything more than a courteous response to an e-mail (when you can get an answer). It's the circle of literary life.
I've notice that we're already at the end of May and I haven't seen a major baseball review from The New York Times, or any other major newspaper for that matter (with the exception of L' sports media guy Tom Hoffarth's excellent 30 baseball books in 30 days feature). The book section has been shrinking along with the rest of the publications, so editors have to be even more selective now. Perhaps with Father's Day on the horizon, they'll print something along those lines.
What I have discovered is the "Bookends" column, where two contributors weigh in on a topic. I guess it's supposed to be a pro and con thing, but it's sometimes not easy to take an opposition view.
This one is about "The Demands of Book Promotion: Frivolous or Necessary?" Perhaps because I don't look at writing books as my "day job," I can take more of a la-di-da attitude. I enjoyed my author events and appearances. Granted they weren't that many; if there were more, maybe I wouldn't have. Writers like Dan Epstein
, John Rosengren
, and Jonah Keri
seem to be turning up everywhere and I admit to a bit of jealousy. It would certainly be cool to go on various talk shows, noshing on trail mix in the green rooms. But, as the "Bookends" piece notes, not all of this running around leads to a huge increase in sales.
Another column ponders "What Are the Draws and Drawbacks of Success for Writers?" Seems some don't like going on the talkies or interacting with their adoring public. One of the phrases that pops up in this one is "Are you bragging or complaining?" These strike me as "rich persons' problems" I wouldn't mind having, at least for a while.
I wonder what the situation will be like for my next book?
UPDATE: I guess the squeaky wheel gets the grease. I just check, on a whim and now the books is up to
The highest it's been in quite some time. I'll have to do this more often 😉