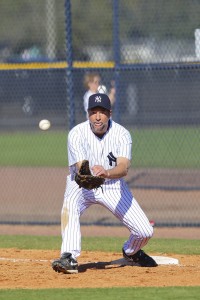 One of my fondest memories was the time I spent at Yankee Fantasy Camp. The team was hosting its first program for observant Jews and I covered it for my paper and a few other outlets. As you might have seen from the video on the sidebar, I compared the dynamic there to that of sleep-away camp, which, in a way it was.
That was my only time at FC. I marveled that some of my fellow campers have been to several of these gigs. I couldn't have gone if the Yankees hadn't played host in exchange for the publicity and my wife hadn't gifted me the transportation. Remember, these things costs several thousand a pop, and that doesn't include the memorabilia — photos, videos, souvenirs — that's a big part of the experience.
It was therefore with a sense of curiosity and nostalgia that I read Roy Berger's memoir, The Most Wonderful Week of the Year
, about his times at a few of these camps. I could relate to a lot of what he said, especially about being an older player, and about the strong advice offered by the administrators to "start slow, then taper off."
I may not have a lot in common with some of the other authors with whom I've chatted for previous podcasts, but I found a kindred spirit — landsman as we say in Yiddish —  in Berger. Here's our conversation:
Here's a link to the story I did for NJ Jewish News about my experiences as well as links to my blog posts on Kaplan's Korner.
Podcast: Play in new window | Download