The Passover holidays have played havoc with my schedule, so there's a lot to catch up on.

First off, can you remember those Bicentennial Minutes that CBS used to broadcast in the months leading up to the big celebration?
Well, Dan Epstein, author of the new Stars and Strikes: Baseball and America in the Bicentennial Summer of '76, apparently does as takes a page out of that book with his own series of special moments:

George Will's A Nice Little Place on the North Side, is getting the bulk of buzz in the pile of titles coming out to mark Wrigley Field's own centennial. Here's a glowing review from The Chicago Maroon and another from the Contra Cost Times of Walnut Creek, California.

Will's book leads off this triptych of Wrigley titles from the Christian Science Monitor. The only reasons I can see for dividing the piece into three pages is to get more clicks. I might be less bitchy about it if they didn't get the info wrong on the second page. Now I don't know what I can trust.

Amid all the brouhaha about the cubs, we have to be reminded that there a re books about other teams, too. Like A Summer to Remember: Bill Veeck, Lou Boudreau, Bob Feller, and the 1948 Cleveland Indians which received a nice write-up in the Xenia (Ohio) Gazette.

Forgive my cynicism ("What? You, Ron, a cynic??") but this regarding Yes, It's Hot in Here sounds a bit apocryphal.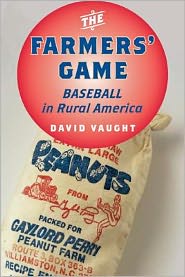 But kudos to David Vaught, head of the History Department at Texas A&M University and a baseball historian, who won the 2014 SABR Award (formerly known as the Sporting News-SABR Baseball Research Award) for The Farmer's Game: Baseball in Rural America, published last year.

The Chicago Tribune wrote about Ed Sherman's Babe Ruth's Called Shot, but it's behind a paywall. Bastards. You can try 'Babe Ruth's Called Shot' about baseball, myth. Lotsa luck.

I don't usually post about books for kids, but if you can't make an exception for Jackie Robinson, who can you make an exception for? This piece recalls The Teammates, a 1992 release by Peter Golenbock,

In one of the more specific titles this week, we have this review of The Complete Handbook of Coaching Catchers. Not a book for catchers mind you, but for those who coach them.

Finally, here's catching up with Tom Hoffarth's 30-in-30 series, picking up from where we left of last time.