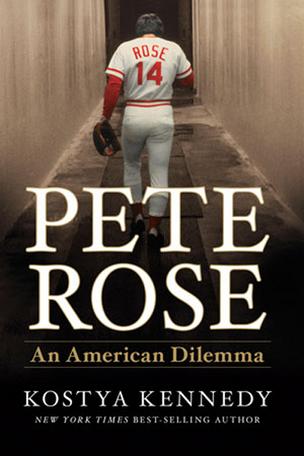 Yes, another book about Pete Rose. This one is by Kostya Kennedy, author of 56: Joe DiMaggio and the Last Magic Number in Sports
, so I expect good things. One line that particularly caught my eye in the piece: "Kennedy told me his publicists don't want him to talk about the book before its release date." Not sure I understand the logic in that. Kostya is a seasoned reporter so I'm sure he knows how to handle himself and say the right things, things that can't hurt sales. But the writer of the piece also tried to get a hold of Rose himself and was informed "Interviews for Pete regarding this and similar topics are $500 each for up to 10 minutes in length." Now I understand that players from previous generations that didn't make the skadillions of dollars modern athlete pull down are looking to make a living, but this? This would turn me off faster than anything Kostya might say.
Yes, another book by Dirk Hayhurst. This one — Bigger Than the Game: Restitching a Major League Life
— follows along the lines of his previous three releases (two "regular books and one "e-book only"). Now you know Hayhurst, who pitched in parts of two Major League seasons, was not part of the huge money guys, but I bet he doesn't charge $500 for a chat. At least I hope not, since I'll be doing a podcast segment with him at some point. Here's an interview he did with the Hudson Hub-Times.
If Hayhurst wasn't a writer himself, I could easily see him included as one of the figures profiled in John Feinstein's compellingWhere Nobody Knows Your Name: Life In the Minor Leagues of Baseball
. The CBA affiliate in the Dallas-Ft. Worth market posted this excerpt from Feinstein's latest on its website.
I'm embarrassed to admit that I had never heard of Stewart O'Nan before he collaborated with Stephen King on Faithful: Two Diehard Boston Red Sox Fans Chronicle the Historic 2004 Season
, but now, as is my habit, I'll probably binge-read his stuff, especially since he's obviously a legitimate baseball fan, not like some who pretend to be for the sake of putting out a book.
The Cleveland Indians' utilitymanJustin Toole added another line to his resume with the publication of 9 in 9: Nine Life Lessons Learned from Playing Nine Positions in One Nine Inning Baseball Game. Does this make him a "six-Toole" player?
Finally, if you're in the Montclair, NJ, area tomorrow (Feb. 27) afternoon:Professor Lawrence Hogan, author of the book The Forgotten History of African American Baseball
," will host a special Black History Month program on the legacy of the Negro Leagues and baseball before integration Thursday at the Yogi Berra Museum and Learning Center on the campus of Montclair University. The program will run from 1:30 p.m. to 2:45 p.m. For more information, call (973) 655-2378.