Submitted for your interest from another semi-regular scan of new titles.
It may seem unfair, but I do tend to judge e-books by their cover, especially when they are offered only in that format. It's an indication of the time and effort the author/publisher puts into the project. Similarly, I'm basing my opinions strictly on the quality of the sample offered. Some are longer than others; I'm not sure who makes those decisions. Comments here refer only to the Kindle editions; the use of additional information, photos, etc., may or may not be different from the printed version.
♦
If They Only Knew
, by Darren Daulton (Blue Note Books, non-fiction; 169″pages." $4.99 vs. $16.16 paperback). It was recently reported that Daulton, a veteran of 14-seasons, almost all with the Philadelphia Phillies, was diagnosed with brain tumors. But even before that, people questioned his behavior. It's hard to get a sense from just the first chapter, plus some introductory remarks, but Daulton's meanderings are difficult for this reader to follow and I wonder what the point is that he's trying to express.
Sample size: "prologue," first chapter.
Table of contents? Yes.
Would I read the rest? No, but that;'s just me.
Worth the price? Not IMHO.
♦
Baseball as Educational Means
, by Frederick Cozens (Ulan Press, 290 pages. $2.99 vs. $24.99, paperback). I have no idea who put this together, but the "book" seems to be nothing more than a reproduction of original typed pages by Cozens, an educator and coach who died in 1954. The quality is so poor you can practically see through the photocopies, which are difficult to read to begin with, produced, it seems, on a manual typewriter.
Sample size: A few pages.
Table of contents? No.
Would I read the rest? No way.
Worth the price? Absolutely not.
♦ 162-0: Imagine a Mets Perfect Season
, by Howie Karpin (Triumph. 246 pages. $9.99 vs. $13.25 paperback)
A book I wish I had written. Must have been fun doing the research to build a "perfect season." This is one of a series of Triumph books on the topic released for several teams. The format is a brief description about each game , supplemented by an "At a glance" of the winning pitcher, home runs in the game (if any), and other "key stats." More pictures and box scores would have been nice.
Sample size: Foreword by David Wright; Introduction; games from March 30-April 5.
Table of contents? No.
Would I read the rest? Yes. Big Mets fan here.
Worth the price? Yes.
♦
Beltway Boys: Stephen Strasburg, Bryce Harper, and the Rise of the Nationals
, by Elliott Smith (Triumph. 224 pages. $11.99 vs. $18.96 hardcover)
Basically the story of the 2012 Nationals, a very exciting team that just came up short in the post-season. There were disappointments along the way, such as the handling of staff ace Stephen Strasburg and the development of Bryce Harper had it's tense moments. But if you like this genre of team profile of a single season, you would do all right with this one. Smith is a freelance sportswriter based in the DC area.
Sample size: Introduction by Nats' broadcaster Bob Carpenter; prologue; one chapter.
Table of contents: Yes.
Would I read the rest? Yes, Big Expos fan here.
Worth the price? I suppose; it's pretty standard.
♦
The Bryce Harper Story: Rise of a Young Slugger
(Diversion Books. 216 pages. $2.99, Kindle only)
Basically a collection of articles culled from the Washington Post. In the old days, this would be a scrapbook. Fans — usually kids — would cut the pages from the actually newspaper and past them in a book. Now the publisher does that for you. Hard to say from the sample (most of the stories are by Adam Kilgore and were published prior to 2011), so not sure what the illustrative qualities are like.
Sample size: Introduction by Mike Weiss, "Part I."
Table of contents: No.
Would I read the rest? Yes, for the curiosity factor. If Harper gets injured, flops, or has a brief career (Gregg Jefferies, anybody?), it will be interesting to come back to this one in a few years.
Worth the price? Sure.
♦
The Baseball Stadium Insider: A Comprehensive Dissection of All Thirty Ballparks, the Legendary Players, and the Memorable Moments, by Matt Lupica. (iUniverse. About 480 pages. $3.03 vs. $34.09 hardcover)
Lupica does a nice job in hitting the high points for each ball park, including a history of the facility, brief profiles of the players/personnel whose numbers were retired by the occupying team; an overview of the parks' eateries and other points of interest; and a few of the marquee games. The book is divided geographically, as opposed to alpha or league. Naturally 100+-year-old Fenway gets a lot more real estate than CitiField. There's also a substantial bibliography for further exploration.
The author wisely does not include prices, which would make the book obsolete in a year's time.
Sample size: Preface which lays out the book's format; four of the 30 teams are profiled (Mets, Phillies, Red Sox, Nationals).
Table of contents: Yes.
Would I read the rest? Yes.
Worth the price? Kindle, definitely. Printed. not so much, unless there are a lot more pictures, and even then probably not.
♦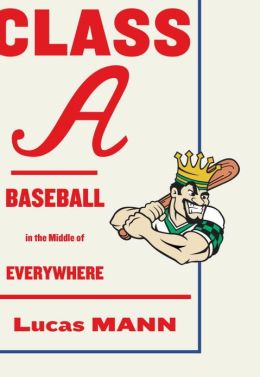 Class A: Baseball in the Middle of Everywhere
, by Lucas Mann (Pantheon, 336 pages. Kindle $13.99 vs. $20.21 hardcover $20.21)
Mann covers the Clinton Lumber Kings, a single-A team, for the 2010 season. The usual assortment of kids on the way up, and kids who will never really rise out of the low-to-mid minors.
Sample size: First two chapters.
Table of contents: Yes.
Would I read the rest? Don't know. The concept of embedding with a sports team has been done quite often. Unsure that I would devote the time to another one without having read the author first, which is kind of a chicken-and-egg thing.
Worth the price? If you like this genre.