Because you can put this on your bookshelf, behind lock and key. because, really, would you play with it?
The eBay item of the day: a hand-made baseball tabletop game with an opening bid of $1.2 million. But at least you get "free economy shipping." Frankly someone who has that kind of money to spend doesn't need to save a couple of bucks on shipping.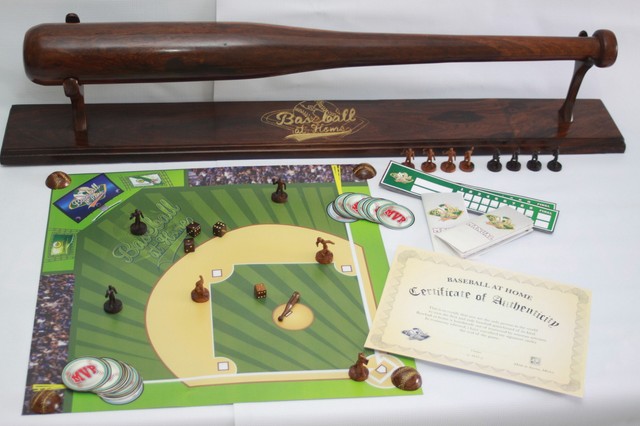 Below is the description. Forgive me for not converting it, as the original is in all-caps.
YOU WILL BE THE ONLY PERSON IN THE WORLD TO HAVE THIS ONE OF A KIND BASEBALL GAMEBOARD, THE CASE ITS A MAGNETIC SEAL BASEBALL BAT SHAPE MADE OUT OF IRONWOOD BY SONORAN ARTESANS, THE FIGURES AND DICES ARE HANDMADE OUT OF IRONWOOD TOO, IT HAS A PROTOTYPE IRONWOOD BAT SHAPE DICE THAT MAKES THE GAME PLAY FROM 2 TO 6 PLAYERS.

IT COMES ON A ROLLABLE BOARD AND HAS 4 IRONWOOD BASEBALL SHAPE CORNERS, INSTRUCTIONS COME IN ENGLISH AND SPANISH, IT ALSO INCLUDES A USB MEMORY WITH THE DESIGN OF THE BOARD, INSTRUCTIONS AND SCORE PAD FOR MORE PRINTINGS.

YOU CAN MAKE HIT AND RUN, STEAL A BASE, DOUBLE OR TRIPLE PLAY AND STEAL A HOME RUN, THE GAME CAN ALSO BE PLAYED ON MVP MODE.

YOU WILL BE GIVEN AN "ONLY PERSON IN THE WORLD OWNER CERTIFICATE" AND YOU WILL HAVE TO SIGN A NON-REPRODUCTION OF THE GAME AGREEMENT FOR SECURITY OF THE BUYER AND SELLER.

IRONWOOD IS ONE OF THE LARGEST AND LONGEST-LIVED SONORAN DESERT PLANTS, REACHING 45 FEET IN HEIGHT AND PERSISTING AS LONG AS 1,500 YEARS.

THE IRON WOOD TREE IS FOUND ONLY IN THE SONORAN DESERT, ITS IRON-LIKE WOOD IS RENOWNED AS ONE OF THE WORLDS DENSEST WOODS.

THE GAME WILL BE DELIVERED HAND TO HAND TO THE BUYER BY THE SELLER.

PERFECT FOR A TRUE BASEBALL FAN COLLECTOR OR GIFT FOR YOUR BELOVED.

100% SATISFACTION GUARANTEED.

THE GAME INCLUDES:

1 ROLLABLE GAMEBOARD

14 FIGURES

4 DICES (3 BROWN AND 1 WHITE)

1 BAT DICE (PROTOTYPE)

30 BASEBALL SHAPE CARDS WITH NUMBER ON REVERSE (MVP MODE)

50 SCORE PADS

1 USB MEMORY

GAME RULES (ENGLISH AND SPANISH)
As of this writing, there are no bids.