Sports Illustrated recently came out with a list of their choices for the 100 greatest sports photos of all time. Baseball Nation's Grant Brisbee was ambitious enough to cull the baseball shots which includes, as ranked:
99. Willie Mays, "The Catch"
94. Greg Olsen, "Ow, my head and neck!"
89. Juan Marichal, "Windup"
83. Yogi Berra/Don Larsen, "Perfect"
72. Babe Ruth, "Hunt Down the Hatless"
70. Hank Aaron, "Badass"
63. Bill Mazeroski, "Walk-off"
57. Pete Rose, "Probably insane"
55. Pirates fans, "/vomits because of fear of heights"
51. Ted Williams, "Here's how Aaron Rowand swings"
46. Jackie Robinson, "The call at home"
40. Roberto Clemente, "Lots of yellow"
36. Mark McGwire, "Is it enough?"
33. LSU Baseball, "Armando Rios?"
26. Cal Ripken, "2,131"
24. Joe DiMaggio, "The photographer was literally two feet away"
15. Barry Bonds, "756"
8. Hank Aaron, "715"
6. Kirk Gibson, "I do not respect the sanctity of your Borders lol"
4. Manny Ramirez, "Flying Manny Ramirez"
2. Lou Gehrig, "Today, today, today …"
Of course, any time you rank something you have to opportunity create lively discussion. For example, SI included this shot of Hank Aaron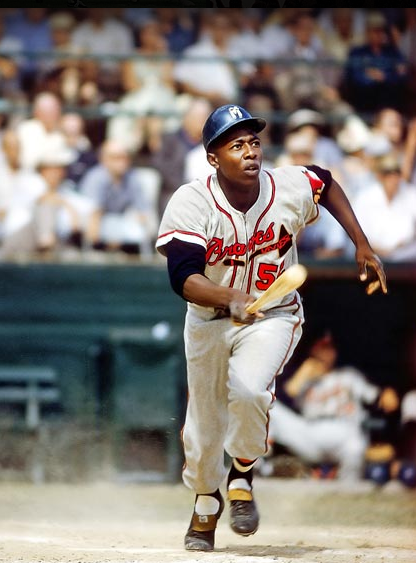 Certainly a nice shot, but, come on, one of the 100 greatest? Bear in mind these are not just shots taken by SI photographers; they include some photos of Babe Ruth and Lou Gehrig, who were gone before they launched in 1954.
Just off the top of my head, what about this iconic image:
Just sayin.'
Discuss.
Some of my favorite books of baseball photography: