Conducted my semi-regular scan of new titles. Submitted for your interest. It may seem unfair, but I do tend to judge e-books by their cover, especially when they are offered only in that format. It's an indication of the time and effort the author/publisher puts into the project. Similarly, I'm basing my opinions strictly on the quality of the sample offered. Some are longer than others; I'm not sure who makes those decisions.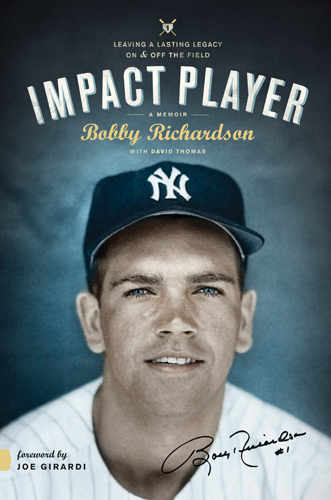 ♦ Impact Player
, by Bobby Richardson with David Thomas. (Tyndale House Publishers, non-fiction; 298 "pages." $9.95 vs. $16.95 hardcover ). Richardson was a staple of some very good Yankee teams in the early 1960s, followed by some very bad ones. As a Christian, he had a reputation, according to Casey Stengel, as a "milk shake" player, but the second baseman — a seven-time All-Star — was extremely respected by his peers.
Sample size: Foreword, prologue, first chapter
Table of contents? Yes
Worth the price? Hard to say, but probably.
♦ A Face in the Crowd (Kindle Single)
, by Stephen King and Stewart O'Nan. (Scribner. Only available as a Kindle single, $1.99.) I didn't care much for Blockade Billy, King's previous baseball novella. Face one didn't get as much buzz as that one. Plus I always wonder how writers collaborate on a novel. It's not like non-fiction, where you can divide the labor into research and writing (or is it?). The e-book has excerpts from two other King pieces.
Sample size: Only part of the first chapter
Table of contents? Yes, but not very helpful.
Worth the price? For $1.99? Sure, why not?
♦ A Declaration of WAR on the Baseball Hall of Fame
, by Tim Johnson (Samuel Oliver Casey Press, 621 "pages" $4.24, Kindle only.) Johnson uses the  Wins Above Replacement sabermetric in this long discussion about why some players deserve to be in the Hall of fame while others who are enshrined should not be. The chapters divide the players by position, with a few extras thrown in for good measure. points off for using the old Jacques Barzun quote, "Whoever wants to know the heart and mind of America had better learn baseball."
Sample size: Generous; includes introduction and first chapter
Table of contents? Yes.
Worth the price? If you like this sort of thing (being hit over the head with stats), sure.
♦ 151 Ways to Ruin a Baseball Game
, by Carl Childress. (Self-published via Amazon Digital Services. 236 "pages," $8.99 vs. $12.99 paperback). Kind of interesting rules break-down by a former high school and college umpire.Kind of reminds me of The Sporting News Baseball's Knotty Problems
the Sporting News used to publish.
Sample size: First chapter
Table of contents? Yes.
Worth the price? Student of the rulebook will no doubt appreciate Childress' work.